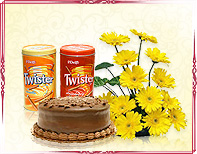 Countdown has just begun for the Father's day celebration. Like every year, it is through gifts that many wish to convey their deepest regards for their dad. Specially when separated by the cross country borders, it is gifts that aptly carry the message of love and regards. The pioneering online gifting mall, GiftstoIndia24x7.com has introduced some really exciting offers specially for the event of Father's day. Offering the best service to its global customer during special occasion has always been its prime motto. Just like every special occasion, it has announced its latest service of same day delivery of Father's day gifts to India.
Father's day is the special occasion when the son or a daughter pays tribute to the selfless contribution of their fathers, otherwise, the father-like figures who have shaped up their lives. Nowadays, the celebration has gained some popularity in India as well. Due to the fact that some or the other members of the family resides out of his country, it is through gifts that they render their thoughts and feelings. Thus, the online gift portals are a boon that enables one to send gifts with mere clicks of the mouse. Hence, one may make his presence felt, even being miles away from his loved one.
GiftstoIndia24x7.com is a renowned name in this online gifting domain. For the ocasion of Father's Day, the company has unveiled special collection of gifts. From father's day hampers to gift vouchers, accessories to electronic appliances, the website is flooded with a plethora of gifting articles. These gifts are couriered or hand delivered to the recipient. The same day delivery service offered by the portal helps the gifts reach the recipient, within six to eight hours, of placing the order. Gifts like Chocolates, Greeting Cards, Flower Baskets, Flowers and Cakes, Father's Day Mugs to India and others can be delivered on the same day. The Same Day Delivery of Father's day gifts to India is set to ensure a hassle-free shopping for all.
CEO of the company, Mr. Amit Desai said in this regard, "We want to deliver gifts from every child to every dad in minimum possible time. With us, nobody will miss the chance of showering dad with loads of love and gifts. So, send your love through alluring gifts and make your dad feel that he is the best." So, this Father's Day, plan for the biggest surprise as GiftstoIndia24x7.com promises to make this event even better.