Romantic gifts to celebrate Valentine
Valentine's Day is a special occasion celebrated by the couples with joy and verve throughout the world. Valentine's Day is a day filled with love, passion and intimacy. Special romantic plans are made by the couples on this great day. The custom of sharing gifts heightens the mood of the occasion. Therefore, if you are thinking to send something impressive to your beloved on Valentine's Day then you can take the help of the popular e-gifting portal, GiftstoIndia24x7.com. This online store displays attractive Valentine's Day gifts in the 'Valentine's Day gifts' section.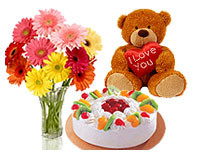 Some of the popular romantic gifts that you can opt for your dear one on Valentine's Day are as follows:-
Flowers - Flowers are the most beautiful gift items that you can send to your beloved. A bunch of fresh flowers heightens the ambiance of the occasion as well as the mood of the recipient. Therefore, you can delight your beloved by sending enchanting flower arrangements. The site brings lovely flowers such as roses, lilies, carnations, gerberas and so on. Red roses are the perfect gift for the occasion of Valentine's Day. Send these flowers as gifts to India and make the occasion joyful.

Chocolates - You can give a tasty treat to your Valentine by sending mouth-watering chocolate hampers. Lindt, Cadbury and Ferrero Rocher are some of the popular brands that come in these hampers. Special Handmade chocolates are available in this site. You will avail these chocolates in heart shape. They are covered with colorful papers, making them look attractive.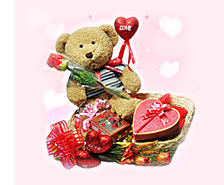 Music Cd & Books - If your beloved loves to read books or loves to listen music then you can delight him/her by sending a romantic story book or music CD. Some of the popular story books and music CDs available in this site are Rhythmic Love, Voices of Romance, Soulful Sufi, Love Ishq Pyar Mohabbat CD, Taken for Revenge, Bedded for Pleasure, Innocent Mistress, Royal Wife, Promoted: Secretary to Bride and so on. He/she will be impressed to receive these gifts.
Jewelry - You can delight your sweetheart by sending stunning jewelleries. In the 'Jewellery For Her' section, you will avail attractive jewelries such as love pendants, earrings, bangles and so on. If you are sure about your dear one's preference then you can send gifts accordingly. If she loves to wear pearl jewellery then you can charm her by sending beautiful pearl jewellery.

Greeting Card - You can convey warm love messages to your beloved by sending beautiful Valentine's Day greeting cards. Some of the popular cards that are available in this site are Crazy Love,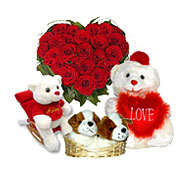 For Your Eyes Only, Our Love Life, You are My Divine Love and so on. Your special one will be overwhelmed to receive these greeting cards as Valentine's Day gifts.
Gift Hamper - Gift hamper includes variety of gift items such as flowers, cakes, chocolates, soft toys, jewellery and so on. Seeing such wide variety of gifts, your dear one will definitely be amazed. If you are sending gift hamper to your boyfriend then you can opt for hampers such as Gentleman's Hamper, Smart and Trendy and Love Cookies. For your sweetheart, you can select hampers such as Unlimited Love Hamper, Kiss My Love and Memorable Moments. He/she will definitely be pleased to receive these wonderful hampers.

Therefore, send Valentine's Day gifts to India and make the occasion memorable. These gifts will definitely bring a sweet smile on your loved one's face.