New Aged Sweets On Bengali New Year Can Make You Happy
Besides 1st January there's again a grand celebration of New Year by the Bengali folks. On 14th April the Bengali New Year gift ideas, Charak Mela, traditional songs, Jalebi food stalls and the spicy aloor dum makes the day epic. It is the day of new beginnings for all the business people in Bengal as they close the earlier accounts. Not only in India, but this Bengali New Year or Poila Baisakh is celebrated in countries like Australia, Bangladesh and England while people also send gifts to India from USA to their Bong friends. In Bangladesh it is a national holiday while in Australia fairs are organised in Sydney and Canberra; and here the Austrians enjoy Bengali art, music and dance fairs.

No celebration is ever wrapped up without the most delicious eatables being served on the traditional platter. This is also the case of Bengali culture, and if we are talking about a Bengali New Year than loads of dishes are to be expected for sure. A New Year should definitely be accompanied with a diversity of tempting sweets. You can showcase a Rasgulla in front of your guests and they would be delighted but that was definitely a traditional case. In today's era, there are innovative developments in the fields of science, art, commerce and off-course food because, let's face it, food is definitely an important criteria. The region of Bengal is so developed in the fields of art that you would be amazed to know how food is on a new higher level. Here is the list of some lovely new- aged dishes that would definitely satisfy your craving for sweets, thereon bringing a happy smile to your faces.

The Malpua Cheesecake is quite surprising. This shows what happens when the two most fantabulous dishes blend together to give rise to the most fantabulous creation among sweets. The city of Kolkata gives you such an extraordinary dish of Malpua Cheesecake. The ethnic Malpuas or we can say the chena pancakes are set in a layer with the yummy Cheesecakes. For all the chocolate lovers Chocolate Sandesh is the best development of the traditional Bengali dish Sandesh. You can also include a Chocolate Sandesh while sending gifts to India on 14th April.
Jolbhora Sandesh is a Sandesh that is stuffed with dry fruits. The soft Coconut Mousse comes together with the signature Mustard of Bengali cuisine to form an experimental Mustard and Coconut Mousse. Nolen Gurer truffle is a truffle consisting of jaggery. Nolen Gurer Madeleine is again a fusion of western and Bengali food culture for the foodies who want something new to be served on their table. Let's celebrate this Bengali New year with this combination of tasty, buttery and spongy cake with jaggery that is a common trademark of Bengali Cuisine.

The Italian herb Rosemary added to the traditional milk based recipes of Bengal creates a delicious Rosemary Sandesh. Dilkhush is a sweet that has a pleasant kesar flavour for the Bengali people. Imagine a Bengali Sandesh with a regal taste of ripe mangoes on a new year day, that is the new aged Alphonso Sandesh. This natural sweet dish is like a cultural gift to India and its rich heritage from Bengal.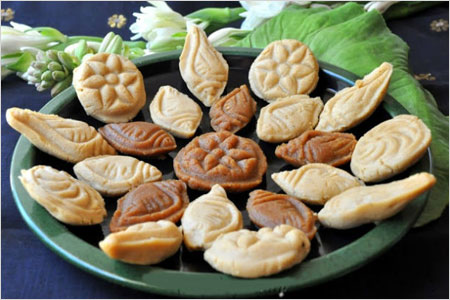 These wonderful sweets are sure to make this Bengali New Year even more fun and entertaining. But if you are staying away from your family members and friends then you must be missing out on these. Sending a gift to India from this online gift store can help you to stay close with loved ones during such times.