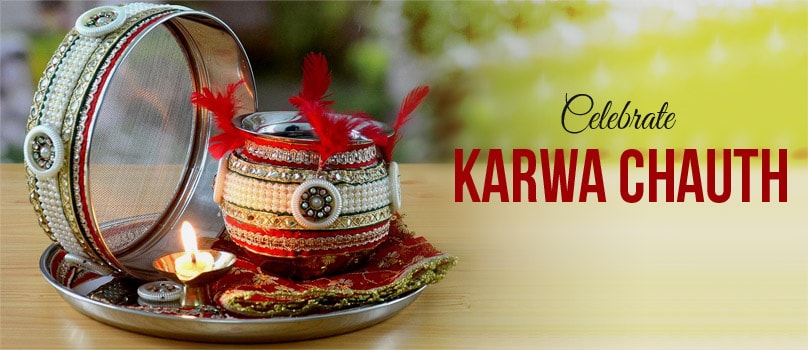 The festival of Karwa Chauth is considered very auspicious and propitious and it is also believed that it brings success, health and a long life in the the lives of those husbands whose wives observe the fast with full devotion and faith. The celebrations are dedicated to Goddess Durga and comprises of various rituals. Thus all the materials for the worshipping arrangement are done a few days before the Puja.
One of the most integral and sacred part of this festival is the Karwa Chauth Puja Thali which every married woman decorates keenly. While decorating the thali, it must be kept in mind that all the materials must be kept in the right proportions. Thali decorations marks an important aspect of the festival. Exclusive decorations of each thali is the highlight of this festival. Thalis may be of pure silver, steel, brass copper etc. Amongst many other Karwa Chauth gifts to India, thali is the most sacred gift item.
The thali for this occasion also known as Baya, consists of vermillion, roli, dry fruits, diyas, sacred water, various types of earthen pots and different types of sweets. The strainer or sieve is the most important item in a Karwa Chauth thali as this is used to see the moon and then the face of your husband. It must be kept on the top. In the thali, the puja materials are kep separately in small katoris. After the puja gets over, the thali is given to the eldest member of the family and he or she blesses the lady.
There is no specific set of rules to decorate a Puja thali. It can be done according to the choice and innovations of the decorator. You can colour the plate with pastel colours. You can add a Swastika symbol to make it spiritual. To the sides of the plate you can add bright satin cloth adorned with stones or sequins to add glamour to the thali. Also you can make the earthen pot by yourself and then add beautiful designs to it. Lastly all that is needed is a piece of red cloth to cover the Thali.
If you like sending gifts to India like a Puja thali on Karwa Chauth to your loved sisters, bhabhis then you can opt for online shopping. This online gifting portal provides you with many gifts options to send to your lovely female friends and relatives on this Karwa Chauth. Along with Puja thalis you can send dry fruits, flowers to India, fruits, jewellery, perfume etc. as well as many other such gift items.