How to Send Dry Fruits to India Online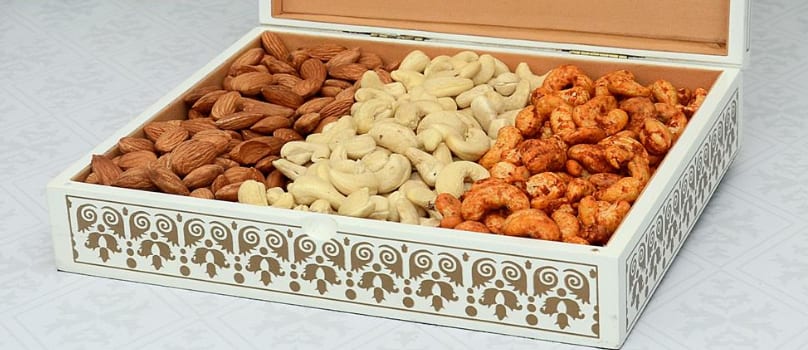 If you ever thought that gifts that take care of health are better than flashy ones, then you are not alone! In this day and age, when life is moving at a fast pace, it is important for us to take care of our health. People we love also needs to be taken care of, which is why sending healthy gifts like dry fruit hampers to India is a brilliant idea! The matter of concern is how to send these amazing gifts to the hands of your loved ones in India. Well, you have no worries because we at GiftstoIndia24x7 is here to the rescue!
Dry Fruits and Their Types:
Dry fruits are a very healthy snack which set the stage for a great conversation and uplifts the mood! There are a lot of dry fruits which you can find. Cashew, almonds, pistachios, raisins, dates - these are some of the most popular dry fruits which are loved and make for a great appetizer! The packaging comes in a variety of sizes when you shop online, giving you the freedom to satisfy whatever requirements you might have.
Preservation Problems Associated With Dry Fruits:
Dry fruits have great preservative quality. Some dry fruits are "dried" specifically for that purpose. Yet, there is still a chance of these being perishable. The preservation aspects of dry fruits depend on proper storage and transit. There is also the question of quality of the dry fruits that end up on your snacks platter. Thus, it is of utmost importance to go with the best in the business when you are gearing up for sending dry fruits gifts to India.
The Best for a Reason:
We have been delivering dry fruits to customers all over India for a considerable period of time. The experiences earned along the way make it very natural for us to handle all sorts of problems. Our top of the class storage, transportation and delivery ensure that the best experience gets delivered when the box gets opened! We overcame one of the biggest challenges to be able to provide the best quality of dry fruits to our customers all over the world.
What Dry Fruits to Send as Gifts:
Healthy dry fruits come in all flavours! We stock the best of chilli, masala and green chilli flavoured delicacies which gives a wide range of options to mix and match while gifting. Cashew is one of the hottest items on sale. Almonds, pistachios and raisins are close on the heels. We offer combos which keep things interesting! Flowers, chocolates and sweets combined with the best of dry fruits in order to deliver an experience which is unique and satisfying!
Shopping for Dry Fruits on Giftstoindia24x7:
Shopping is not just about buying products. It is also about the experience during and after the transaction is made. When shopping with us, what you get is that experience. Right from the moment you dive into our website till your gift is delivered, we will be along the way with you. Our helpful blogs on dry fruits are there to assist you to make an informed purchase.
Payments, customer support and ease of use are a cakewalk for us. What you get when you shop for dry fruits is quality honed for more than two decades!