Historical significance of Holi
Holi, the "Festival of Colors" is a spring festival, celebrated with great life and joy all over the country. On this day, people throw "abeera" or "gulal" on each other as well as in air to express the joy in the arrival of Spring season. However, the Indians who are away from there family miss the chance to celebrate such grand day. In such case they can send Holi gifts to India, with the help of online portals. Amongst various online portals, GiftstoIndia24x7.com is an exclusive online store from where you can send gifts to India on Holi. Now, if you are wondering as to when is Holi in 2012, note that it is on 8th March.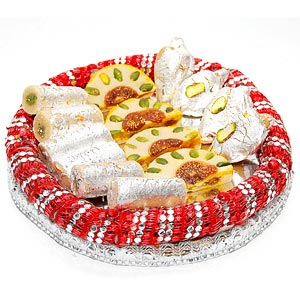 Holi or "Holika" is one of the ancient festivals of India celebrated on full moon day of lunar month. The reference of this festival is found in many religious texts such as Vedas, Puranas, Kathaka-Grhya-Sutras and Jaimini's Purvamimamsa-Sutras. Even the celebration is also depicted in many old paintings and murals. Since it is an ancient festival, many historians consider that this festival was also celebrated by the Aryans. Today the celebration of this festival has changed. Exchanging Holi gifts has become a common trend on Holi. In early days, this festival was celebrated by married women for well being as well as prosperity of their family.

There are various mythological legends associated with Holi celebration. Amongst all Lord Krishna, Prahlada and Kamadeva are the important legends associated with Holi celebration.The legend of Radha and Krishna narrates Lord Krishna's mischievous prank with Radha. He had complaint his mother Yashodha about Radha's fair complexion. Hearing his complain, Yashodha smeared color on Radha's face. So every year, in Mathura and Benaras, this festival is celebrated with great vigour for about a week.

The legend of Prahlada deals with the demon king Hiranayakashyap who wanted his son Prahlad to worship him. But Prahlad was a great devotee of Narayana and refused to worship his father. So, Hiranayakashya asked his sister "Holika" to kill Prahlad with the blaze of fire. However, it was Lord Vishu who saved Prahlad from the blaze of fire. This ritual is still in practice. Before the Holi celebration, people burn bornfire with the effigy of "Holika" signifying the victory of good over evil. The legend of Kamadeva narrates his sacrifice for the benefit of the world.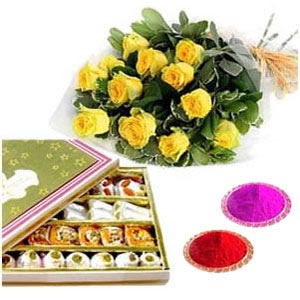 Though the customs and rituals related with the festival of Holi may differ from place to place but the integral essence of the festival remains constant everywhere. In many parts of India, fairs are held. Apart from enjoying the day with colorful Holi, grand feasting is also included. Various types of delicious sweets such as gujiya, matri, aloo chat, papri chat, dhahi vada, kesar chawal etc are cooked. If you want to wish "Happy Holi" to your dear ones, you can easily send gifts to India along with mouth-watering sweets from our site. Special types of "bhang" and "thandai" are prepared to make people enjoy the festive spirit of Holi along with the rhythm of "dholak".

If you want to express your love and care to your kid, small brother or sister, you can avail various types of pichkaries. This will surely overwhelm them with joy and they will be very much interested to drench "Holi" water on others. Therefore, let your dear ones celebrate Holi with gifts. So send gift to India and make your loved ones' Holi 2012 celebration memorable and joyful.