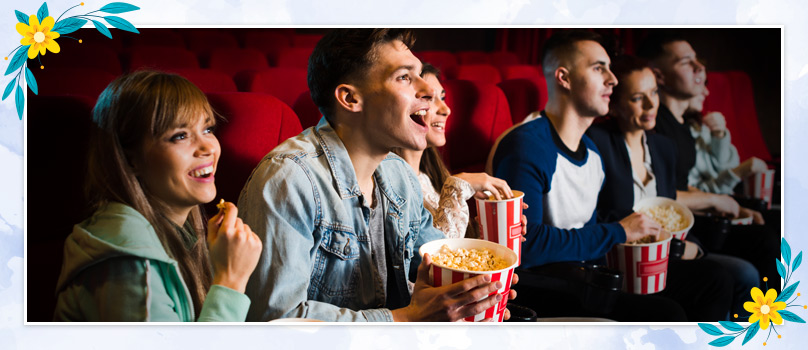 Friendship Day is round the corner. This is the perfect day to make a grand celebration with friends. However, if you are unable to be with your friends, you can delight them by sending gifts to India online. You can take the help from the proficient e-gifting portal, GiftstoIndia24x7.com. You can surprise your dear friends by sending exclusive Friendship Day gifts.
The "Friendship day gifts" section showcases variety of gifts. You can send gifts to India such as flowers, chocolates, gift hampers, vouchers etc that you can send to your loving friends as Friendship Day gifts. If you are with your friends, you can organize a grand party at home or in restaurant, cook special dishes, or go on a trip. In addition to these ideas, watching movies with friends at home will be perfect. If you have no idea about the Hindi movies that you can watch on Friendship Day, here are few Hindi movies that you can watch on this special day.
Dil Chahta Hai (2001)
This is a wonderful film that you can watch with your friends on this special occasion. The film is set in modern urban Mumbai and portrays the modern life of the youth. The film focuses on the major transition in the lives of 3 friends, Akash (played by Aamir Khan), Sameer (played by Saif Ali Khan) and Siddharth ( played by Akshaye Khanna). Each individual has different perspectives towards life and love. Akash does not believe in love, Sameer is a amiable and romantic person but is confused whether he is truly in love or not and Siddharth is the most mature amongst the 3. Along with the interesting plot, the film also has soulful music. Your friends will definitely enjoy watching this movie on Friendship Day.
Rang De Basanti (2006)
This film narrates the story of a young girl (played by Alice Pattern)from England who comes to India to make a documentary film on Indian freedom fighters. She asks five Indians, (played by Aamir Khan, Soha Ali Khan, Kunal Kapoor, Siddharth Narayan, Sharman Joshi and Atul Kulkarni)
to act in her film. They accept her proposal. As they start shooting for the film, one of their friends (R.Madhavan) gets killed in an aircraft crash. They find that government corruption lies beneath this aircraft crash. They become determined to take revenge of their friend's death. The film focuses on the unity & strength of the five friends and their determination to bring out the injustice caused to their friend. The movie has romantic as well as soulful songs which will provide great entertainment to your friends. Moreover, watching this movie will be a perfect Friendship Day gift.
3 Idiots (2009)
The film that narrates the friendship of 3 buddies - Farhan Qureshi (played by R. Madhavan), Raju Rastogi ((Sharman Joshi) and Rancchoddas Shamaldas Chanchad later to be known as Phunsukh Wangdu (Aamir Khan). Their friendship begins from Imperial College of Engineering (ICE). After becoming professionally successful Raju and Farhan start on a quest for their lost buddy Rancchoddas Shamaldas Chanchad. On their journey, they encounter a long forgotten bet, the bet made by Chatur (played by Omi Vaidya) as well as the truth about Rancchoddas real identity and crash the wedding of Pia (played by Kareena Kapoor) Rancchoddas's beloved. The scenes of the film flow from comedy to sorrow to romance which will definitely be enjoyed by your friends. The soulful songs will also provide great entertainment to your friends.
Apart from these 3 movies, you can also watch the recently released Delhi Belly or Rockford, Stanley Ka Dabba and many more. However, if you are not with your friends, you can send DVDs as gifts to India from US and make the occasion memorable and delightful.