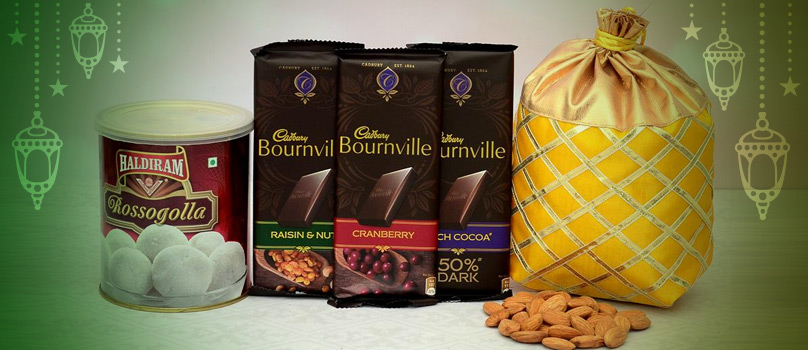 The upcoming of any festival fills our whole heart with happiness as it is the time of the year when you get to wear new clothes, eat delicious food and all in all have a good time with your family and close friends. India, being a country where people of varied religious beliefs live together in harmony, celebrates festival throughout the year. Amongst these, Eid ul-Fitr or Eid is one festival which is celebrated by the people of the Muslim community with great vigour and zeal. Usually celebrated on the first day in the month of Shawwal, it marks the end of Ramzen, the Islamic holy month of fasting. Hence, this year make this celebration really special for your family and close friends by sending gifts to India with the assistance of GiftstoIndia24x7.com.
This is an e-gifting site that has been helping individuals all over the world to send gifts to India on any occasion and festival. With the festival of Eid, just around the corner, we, at GiftstoIndia24x7.com bring you a wide plethora of gifts to India for Eid which will be suitable for this glorious celebration. From delicious cakes, sweets to flowers, jewelleries, watches and many more you can avail from our site. Since any Indian celebration is incomplete without eating sweets, we offer you a wide variety of these mouth-watering delicacies. Depending on the recipient's taste, you can choose to send any one from our 'Sweets to India on Eid' category. Besides these, sending them cakes on this festival is also a wonderful gifting idea.
But, if you are planning to gift something different to your dear ones on this festival then opting for Eid gift hampers or gift vouchers will be a good choice to opt for. Both these items are very popular gifts among gift-givers. In the 'Gift Hampers' section of this category, you will come across a wide variety of these items which will surely be a suitable gift for your loved ones on this festive season. If you browse through this section, you will see that each gift hamper differs from one another. For instance, one hamper contains a delicious cake, a beautiful bouquet of flowers along with dry fruits and chocolates while other contains gift vouchers, a bunch of roses and a stuffed toy. Thus, choose the one which you feel will be most suitable and send gift hampers to India on Eid to your loved ones and make their day truly memorable. You can be sure that they will appreciate your gift.
Apart from these, gift vouchers are also grabbing quite the attention of gift-givers. These may be wonderful gift options for those who are not sure about the recipient's taste and preference. This is mainly because, the recipient can purchase items of the specific brand within the worth of the voucher. It goes without saying that women and shopping go hand in hand. Thus, send gift vouchers on Eid to the ladies in your family from Pantaloons, Shoppers Stop, Wills Lifestyle, etc, and give them the reigns to shop to their heart's content. Along with these, you can also send them vouchers from SIA, Tanishq, Gili with the help of which they can check out matching accessories to go with their latest purchases.
Similarly, for the gentlemen in your family as well, these gift vouchers will be perfect gifts on this joyous festival. For them, you can opt for vouchers of Reebok, Adidas, John Players, Shoppers Stop, Pantaloons and so on. Besides these, we at GiftstoIndia24x7.com also offer you gift vouchers from popular food chains like Pizza Hut, Dominoes, Baskin Robbins, Mainland China and so on. These vouchers will surely be appreciated by your loved ones.
Hence, with the help of GiftstoIndia24x7.com, make this festival of Eid really special for your dear ones by sending gifts to India from US or any part of the world. You can be certain that the recipients will feel cherished and loved with your wonderful gifts.