Gifts of food items to India to celebrate festivals
Be it an occasion or festival, food items make wonderful gift idea which will serve as a good treat. A can of soup or spaghetti packet would surely cause a blank look. But a boxful of chocolates, delicious sweets or fine cakes with some namkeen would give one the opportunity to indulge. With occasions such as Christmas, New year and Valentine round the corner, GiftstoIndia24x7.com, one of the reliable gifting portal has launched a wide variety of food items for you to send gifts to India. Through its proficient and on time delivery, your gifts will reach the doorstep of the recipient within no time.

Food items such as cakes will be hand delivered and other items such as namkeen, sweets and chocolates will be delivered within 3-4 working days of placing your order. Moreover, the portal has also introduced Same Day Delivery of gifts to India system, by availing which, one can send gifts within 24 hours of placing the order. To check various food items, you can browse through the Food Items section.

1. Cakes- Who doesn't love to cut cakes to celebrate special occasion in their lives, such as Birthdays or Anniversaries. And your loved ones are no exception. Seeing the growing craze for cakes, GiftstoIndia24x7.com has brought to you a great collection of mouth-watering cakes for you to choose from. You can make your pick according to your loved ones preference and flavor of the event as well. Cakes in various flavors such as strawberry, chocolate, vanilla, pineapple, black forest and so on are available. All these cakes are brought from reputed bakeries such as Taj, 5 star bakeries and so on, hence you can be sure of its quality and taste. Alongside these, cakes here are made according to the need and essence of occasion. Thus, you can be rest assured to find gifts for all occasions and festival here in this section.

2. Chocolates - Chocolates whatever be the taste, are relished by all, irrespective of any age or gender. But if you are planning to surprise your beloved on Valentine or little ones on their birthday, nothing comes in comparison to delicious chocolates. A wide collection of scrumptious chocolates from various renowned brands such as Lindt, Ferrero Rocher, Cadbury and so on are available herein this store. Not only these, you can also give one treat with handmade chocolates. All these chocolates come wrapped in attractive colorful papers and ribbons. Your diabetic parents or health conscious friend's joy would know no bounds if gifted them with sugar free chocolates. They will treasure those memories for a long years to come.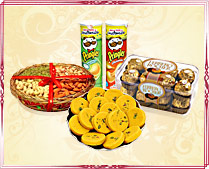 3. Dry Fruits - Dry fruits are wonderful gifting option specially on any auspicious occasion such as Diwali, Dhanteras, Rakhi and many more. Dry fruits moreover are loaded with number of vitamins, minerals and carbohydrates. Dry fruits would make a tasty and crunchy tea time snack. One can also have in the breakfast since its health beneficiary elements will give your morning a kick start. Raisins, almonds, pistas and kajus assortment come in nicely decorated boxes and handmade trays. Air tight boxes and containers will keep these dry fruits fresh and delicious for a long time.

4. Sweets - It goes without saying that no festival or occasion is complete without sweets.
From soan papri to kesaria peda, kaju barfi to kaju suraj and motichoor ladoo to kaju katli, the store has it all. These sweets are segregated under different sections to make your searching process less time consuming and hassle free. In the sweet hampers section, sweets are assorted with chocolates and dry fruits. Not only the site has brought to you a range of dry fruits, but also tinned sweets such as rasgulla, gulab jamun and raj bhog from renowned stores such as Haldiram's and K.C Das are arranged for you.

Your gifts to India on any special occasion will definitely make your loved ones feel the way you feel for them. Gifts will make them feel as if you are there with them on that special event.