Send Flowers with Chocolates to your loved in India
Flowers are the most wonderful and acceptable gift ever presented. Flowers solely can be gifted on any occasion or event or can be paired with other gift articles. Different flowers carry different significance. If you are planning to present a beautiful flower bouquet of fresh flowers on one's Birthday or anniversary, bright colored flowers are always recommended. You may also keep in mind your dear one's preference and be flexible. As we know, red roses are associated with love and romance, you can send a bunch of vibrant red roses if you are gifting to your dear husband or beloved. Bright colors typically mean that you want to make the recipient cheerful and charming. White colors usually mean you are sending to a traditional family function. Pastel color flowers will send a message to your friend that you are there for them in their time of need. If you simply can't decide, you can send a mix of colorful flowers.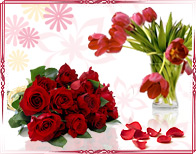 Now-a-days sending flower to India from any corners of the world, is a matter of ease with the assistance of different gifting portals. These e-gifting portals assist their customers to send gifts to India to their dear ones on any occasion or festivals. Amongst all other portals, GiftstoIndia24x7.com has grabbed its clients attention owing to its committed 24 hours customer care support and quick delivery service. This online store has launched wide assortment of exquisite flowers to select and send as gifts to India. If you are sending a fresh bouquet to your friend or colleague to a hospital with a message "Get well soon", it should make her/him feel cherished in whatsoever the situation the recipient is in. Flowers are also an ideal gift in any corporate meeting or get-together. Flower bouquets come in many varieties and sizes according to various occasions and festivals. Flowers commonly used to make bouquets are roses, carnations, gerberas, lilies, tulips, orchids and other seasonal flowers. You can have a bouquet with roses only or in combination with other flowers. Flower bouquets having carnations and colorful gerberas are also a favorite among people. All these flowers are available in this store.

You can send flowers to India on anniversary of your loved ones availing the online services of GiftstoIndia24x7.com and make the day memorable. You can also couple other gifts along with a bunch of beautiful flowers. A small note in an attractive greetings card will also give unique touch to the gift. If you wish to send birthday flowers to India to anyone you love and care for, chocolates gifts to India would be the most favoured gift item. A lovely bouquet, artistically arranged is also an ideal Valentine's Day gift. You can send flowers on Mother's Day and even on Father's Day. Generally people think that men unlike women are not overjoyed to receive flower bouquets. But it has been observed, if they are not over impressed, men too love receiving flowers on any occasion. Flowers if paired with delicious chocolates are the most impressive gifts on some occasions and events, especially birthday, anniversary, marriage, New Year and so on.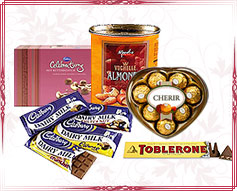 Wide collection of mouth-watering chocolates from globally recognized brands have been arranged by GiftstoIndia24x7.com. Some of them are Cadbury, Ferrero Rocher, Valor, Lindt and many more. You will find chocolates as bar and assortment in varied flavors such as orange, mint, caramel and many more. The chocolates are arranged in beautiful attractive boxes and trays decorated with colorful papers, net and ribbons to give them a wonderful look. Thus send chocolates to India to your loved ones and bring that charming smile on their faces.

If you are settled offshore, you can also send gifts to India from US and other parts of the world. Convey your innermost thoughts and love to your dear ones through some exclusive gifts offered by GiftstoIndia24x7.com.