Same Day Delivery of Father's Day Gifts to India
As Father's day is at the doorsteps, GiftstoIndia24x7.com is proud to announce the launch of same day gift delivery services throughout India. The Gifts can be delivered to loved ones on the same day the order is given. We aim to achieve complete customer satisfaction and this launch is the step forward in the right direction. We believe in lightning fast delivery and we know what occasions like Father's day signify. Making father's in India happy is no more a thing of concern for all those living miles and miles apart.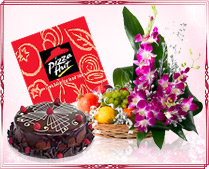 Father's day is now a widely popular occasion that is observed throughout India. Father's day is a day to honour our fathers and father like figures and thanking them for all the pains they undertook to raise us. Expressing your gratitude to this special man with some wonderful gifts on this day, will be a grand gesture that will make him feel proud. It is never too late to choose a gift for this special person as we, at GiftstoIndia24x7.com, bring you Express Delivery or Same Day Delivery of Gifts to India. This service helps your gifts get delivered on various cities on the same day as the orders are placed. We, at GiftstoIndia24x7.com ensure the gifts reaches your dearest dad just in time for the festivities.
"Same day delivery is just another way of conveying to our beloved customers how we continuously strive to achieve perfection," opined our company CEO, Mr. Amit Desai. The wide range of gifts will surely make your father's day truly special. Father's day is an occasion worth making it special for your father. Make it one today.