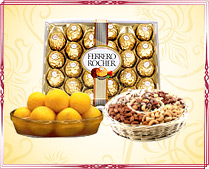 Just like any other Hindu festival, Diwali in India is a gala time for both gifting as well as feasting. Wishing ones' friends and family with gifts on this very day is termed to be a very special practice. But, with the recent effects of globalization many of the Indians are now compelled to leave their motherland to settle abroad. It is during the times of such a festivity like Diwali that they desire to get into touch with their long left roots back in the country.
To enable these overseas candidates to send Diwali gifts to India, GiftstoIndia24x7.com has ushered in to offer a plethora of Diwali gifts in their portal. And what else would find an eminent mention herein other than gift hampers? Being a conglomeration of different gift ideas, a hamper enables one to gift with a variety. So, while you are paying for just a single gift, you are actually sending a team of several gifts packed into one.
The hampers showcased herein includes Chocolate Hampers, Dry Fruit Hampers, Sweets Hamper, and more. These assortments are available at an affordable price rate, making them the most sought after Diwali gifts. So, select and send these Diwali Hampers herewith, and let your truest emotions surface through this heartfelt gesture on this very auspicious occasion in India.
Commenting on this, the CEO of GiftstoIndia24x7.com, Mr Amit Desai says, "A hamper always excites you to try something anew. The wide range of Diwali hampers, as showcased in our site is definite to adhere to your gifting requirement very well."