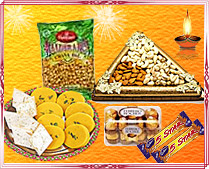 Another exciting offer from the pioneer online gifting portal, GiftstoIndia24x7.com, that is going to overwhelm one searching for unique Diwali gifts. Diwali, the Festival of Lights, is grandly celebrated not only in India but all across the globe. Exchanging gifts mark the core essence of this great Indian fiesta. To enable the huge number of Indians settling abroad in finding exclusive Diwali gifts for their near and dear ones, GiftstoIndia24x7.com has launched its enchanting collection of special Diwali gift items.
As Diwali is on the cards, we are all engrossed in the paramount task of picking the best items from the shops. But, when GiftstoIndia24x7.com is there, then you need not worry about your gifting requirements. Every minute requirements has been taken into consideration by this one stop gift shop. From offering a vast range of Diwali diyas, candles, crackers to arranging some of the most astonishing hampers such as sweets hampers, chocolate hampers, dry fruits hampers etc. It has literally showcased the whole world of Diwali gifts infront of you. It also has categorized sections of diwali gifts to India for family, kids, parents etc.
"With GiftstoIndia24x7.com around, nothing seems impossible! Giving you the best is our prime concern and for that we have focussed on each of your gifting needs. You will find gifts for all your loved ones according to your choice as well as budget. So, celebrate this Diwali and give a pleasant surprise to all," said Mr. Amit Desai, CEO of GiftstoIndia24x7.com. What more! You can also avail its Express Delivery service to send your Diwali gifts to India on that very day you will be placing the order. So, celebrate this Diwali in a grand way as GiftstoIndia24x7.com has paved the right path for your boundless joy.