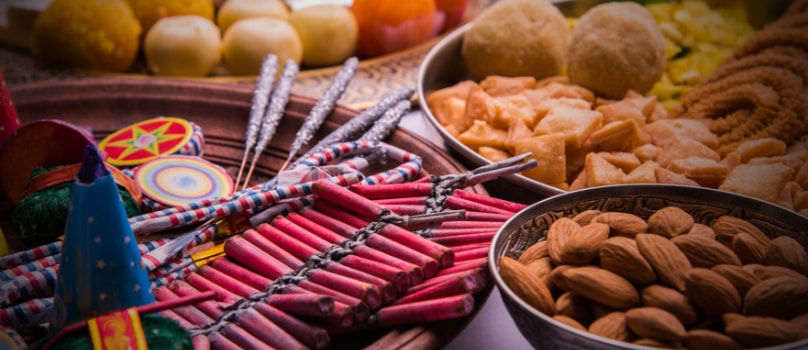 Diwali is an irrefutable symbol of festivity as well as the epiphany of expressing your reverence to the supreme power for showering you and your family with the blessing of wisdom, prosperity and fortune. It is the time to illuminate every soul on earth with the ray of true love and care. Let our near and dear ones get indulged in an unforgettable celebration marked with the beautiful traditional custom of this festival of lights, exchanging gifts as souvenir of love. Diwali will be celebrated between mid -october and mid-november. and according to the hindu calender it falls on the darkest night of lunisolar month called kartika.
If you are a non-residential Indian then make Diwali more joyful by sending Diwali gifts to India to your special ones. Spread the message of love and bonding to all your loved ones gifts wrapped with Diwali greetings. Brighten up those lives which are far from you and missing you in this special time of great merrymaking and enjoyment with gift hampers on Diwali to India.
However, to send Diwali gifts to India, you have to first choose best gifts for all of your loved ones which can be a brainstorming task at times. Selecting gifts require lots of head scratching and confusion whether they will like your gift or not. GiftstoIndia24x7.com is here to clear up all your dilemmas related to this gift with its unique gifts for Diwali. Here are some of the best gift ideas both traditional and contemporary ones which may help you to choose.
Puja Thali:
Send the divine blessings to your family and friends by sending this auspicious puja thali as Diwali gifts to India. With these beautifully decorated and handcrafted puja thalis, welcome the Goddess of Wealth Lakshmi to your home and be blessed with prosperity.
Sweets:
No festive season can be complete without tempting your taste buds with delicious sweets. So, sweeten up this festive spirit of Diwali by sending some mouth-watering sweets like Gulab jamun, Kesar barfi, delicious peda, jalebi, besan ka ladoo etc as gifts to India. The perfect treat for all gourmets, you can present sweets in case you are not able to decide on anything else.
Dry Fruits:
Assortment of dry fruits offered by GiftstoIndia24x7.com is sure to bring water in the mouth of any one when these dry fruits come as Diwali gifts. Let your loved ones be fascinated with the mixed emotions of this dry fruits' assortment. Exclusive dryfruits diwali hampers are also offered to you.
Spiritual Gifts:
Diwali, the celebration of the triumph of good over evil is also the time to worship the Almighty. So, offer devotion to the Lord by sending spiritual gifts like spiritual CDs and DVDs, shagun coins and spiritual hamper to your family in India.
Home Decor:
Diwali is the time when people decorate their abodes beautifully with home decoration. So, people love to receive home decor items as gifts on Diwali. Home decoration items are something which people might not buy for themselves but love to receive as gifts. Diwali is the time to make new beginnings, so, decorate up the place of your closed ones with wall hangings, wooden sculptures, metal lantern etc.
Diwali Diyas:
Deepavali is the festival of lights. Houses, roads and cities are illuminated with thousands of earthen lamps or diyas. So, diyas are synonymous with Diwali. Nothing can be best gifted than a set of beautifully bedecked diya. Brighten up the mood of festivities and send Diwali gifts to India.
Silver Gifts:
Silver Gifts are the most admired traditional gift items for the occasion of Diwali. These are available in a wide variety including silver holy idols, silver coins, silver thalis and silver accessories. These silver gift items are very much popular as Diwali Gifts for your family.
Diwali Gift Hampers: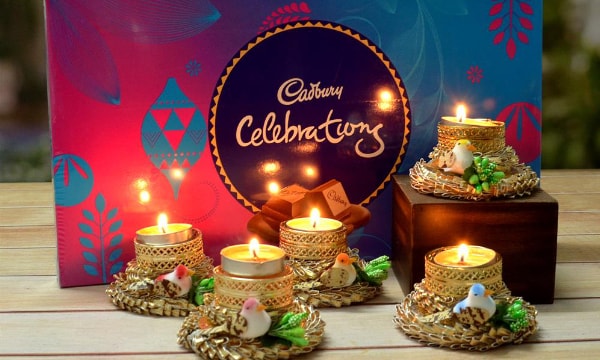 Fantastically crafted attractive Diwali gift hampers is the bright choice for enjoying the blissful celebration. You can go and select from a wide range of gift hampers consisting of chocolate hampers, dryfruit hampers, flowers n cake, sweet hampers etc. These hampers are best as gifts on Diwali to India.
Apparels & Accessories:
Women love to be gifted with apparels and accessories on Diwali. Keeping in mind this common practice, GiftstoIndia24x7.com offers you a vast range of apparel for both ladies, men and kids. Send designer apparels and accessories to your all near and dear ones and win those special hearts in this special occasion of Diwali.
Flowers and Cakes:
Flowers and cakes can be gifted any time and on any occasion. Flowers are the expression of your deep love for the special one of your life. So, make your special someone feel more special by sending flowers and cakes as Diwali gift to India.
Candle Gifts:
Diwali is the festival of light and what can be best gifted on this occasion apart from lights like some mindblowing candles. Let these wax candles illuminate the life of your near and dear ones with its bright ray of love.
Since you know when is Diwali, send gifts to India by selecting the bestest ever Diwali presents and gifts from GiftstoIndia24x7.com and let us be your associate in wishing your near and dear ones a very Happy Diwali.