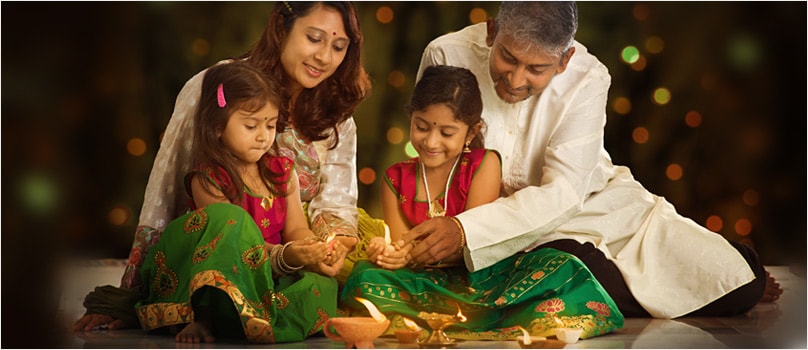 The word Diwali is derived from the word Deepavali that means 'rows of lights'. Deep means lights and avali means rows. So, this great Indian festival is also known as the 'Festival of lights'. This day marks the victory of good over evil or the darkness. The tradition of lighting thousands of earthen lamps symbolizes eliminating the darkness within by illuminating the soul with the light of positive energy and hope. The festival of Diwali has been considered significance as it empowers our hearts to connect to that world of ethereal supremacy. Dated back to the ancient times, Diwali in India is considered as one of the most important harvest festival. It also has a mythological significance as on this day Lord Rama returned to his homeland after fourteen years of exile. People of Ayodhya decked up the whole city by lighting diyas to welcome their dearest King Rama.
If you are wondering when is Diwali, then note that this festival generally falls in between mid -october and mid-november. and according to the hindu calender it falls on the darkest night of lunisolar month called kartika. Now, Diwali has transcended the national barriers and turned to be a grand festival celebrated all across the globe, the resonance of its past glory still rings in our hearts. On the darkest night of Amavasya or the New Moon day, the bright flames of the diyas strengthen our special bonds with our near and dear ones. Irrespective of caste, creed and colour, followers of all religion and ethics take part in this grand extravagant celebration of Diwali. This festival of enthusiasm is celebrated by decorating the houses with unique decorative, lighting beautiful earthen diyas and bursting firecrackers. Gifting is another inseparable part of this fantastic fiesta. Without the exchange of gifts Diwali celebration remains incomplete. Once you know when is Diwali, start preparing your gift list today.

Globalization has changed our lifestyles and career goals. The number of Indians living abroad is gradually increasing as foreign countries like UK or USA have been the most favourite offshore destination. For these people, celebrating Diwali and such other festivals with friends and families in India is not possible at all. For them the year long thread of communication is email or video chat. But, on this special time of festivity, these global Indians reinforce their bonds by sending gifts to India from US or any corner of the world. To cater this overseas gifting requirements, numerous web portals have emerged facilitating e-gifting. The newest means of sending gifts to any corner of this world, e-gifting enables people to send to the desired destination at the least possible time. Most of these portals have their own vast collection of gift items from which customers can choose and send gifts of their own choice. By availing this service of online shopping and sending gifts to their dear ones in India, Indians staying abroad have found a new way of conveying special wishes and greetings on Diwali.
GiftstoIndia24x7.com is one such online gifting mall which flaunts its extensive collection of amazing gifts articles for its worldwide customers. Since 1999, this pioneer gifting portal has successfully delivering not only gifts but the emotions attached with these gifts too. One can easily send gifts to India this Diwali through this premier online shopping destination. From over 7000+ gifting items, choose the best one and send it to your loved ones to convey your heartfelt Diwali wishes. The gifts wrapped with those special message of love, can multiple the festive mood of your loved ones a thousand times. So, if you are missing your friend or a family member who has settled down their, send a beautiful gift and wish him/her a happy and prosperous Diwali. So, convey your deepest regards and wishes on Diwali by sending alluring gifts to India and make the occasion special as ever.