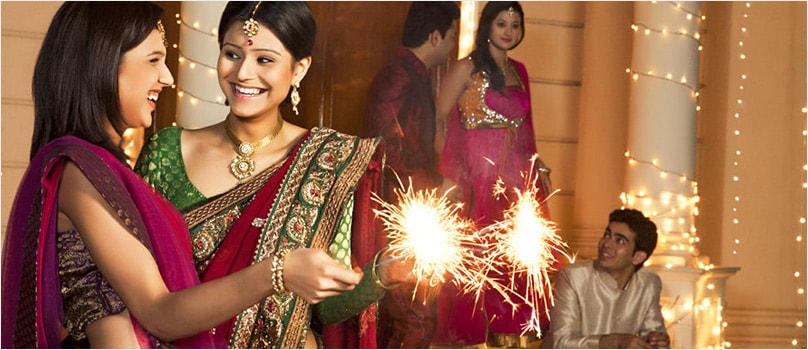 The ancient festival of Diwali has been celebrated for ages in India and annual celebrations are still held each year all over the country with great flourish, enthusiasm and gaiety. Traditionally believed to be a Hindu festival of wealth and prosperity, it is amazing to see how Diwali has become an occasion for all Indians irrespective of their status and castes. Diwali Celebration usually signifies the festival of lights and it is celebrated in different ways in different parts of our country. Each part has it's own significance and set of rituals. Let us see what they are.
Northern India :
According to the Hindu epic Ramayana, Lord Rama vanquished the evil King Ravana and returned from his fourteen years exile on this day. His homecoming is celebrated with bursting crackers and fireworks. This tradition is still continued in the Northern states of Uttar Pradesh, Punjab, Haryana, Bihar, Delhi, and surrounding areas where huge effigies of Ravana are burnt down. Along with that Goddess Lakshmi and Lord Ganesha are also worshipped and the whole city and homes are decorated with rangoli and lights.
Eastern India
In the eastern region of the country, Diwali is celebrated with great fanfare. In Orissa, oil lamps, candles and lanterns are lit and placed in rows around individual homes. Crackers are burst, sparklers lighted and gifts and sweetmeats distributed by people across the state. In West Bengal, Lakshmi puja is celebrated earlier than the Diwali celebrations and the deity celebrated on this occasion is the fierce Goddess Kali. "Kali Puja" or the worship of Goddess Kali is what makes the celebration in this part of India a unique one.
Western Part :
In the western states of India, Diwali is a four-day festival, the preparations for which begin at least 15 days in advance.The markets liven up almost a whole month in advance for Diwali shoppers and the shopping frenzy peaks with the advancement of the occasion. On the night preceding Diwali, Gujaratis start celebrations by creating designs depicting images associated to the festival like deities, sun and flowers from natural powder colors in their verandas. Images of small footprints are also drawn over individual doorsteps which is supposed to be a way of inviting Goddess Lakshmi to the house. Same happens in Maharashtra as well.
Southern Part :
In Southern India, Diwali is is celebrated in the Tamil month of aippasi Naraka chaturdasi thithi, preceding amavasai. Naraka chaturdashi is the main day of the Diwali celebrations in this area. The preparations begin the day before, when the oven is cleaned, smeared with lime, religious symbols drawn on it and then filled with water for the next day's oil bath. Individual homes are washed and decorated with kolam designs, akin to rangoli patterns in North India. Firecrackers and new apparels are kept on a plate to be used on the following day. On the morning of Naraka chaturdashi, the actual celebrations begin with an early morning oil bathe before sunrise. Afterwards, sweets are eaten and new clothes worn.
Diwali is also a time to exchange and send gifts to your close family and friends. This online reliable portal of India suggest various Diwali gifts to India which will enthrall you. You can also avail to gifts to India same day delivery gifts of perishable gifts which will be a warm gesture from your part to your beloved ones. This festival of lights celebrate in style.