Party Themes for Christmas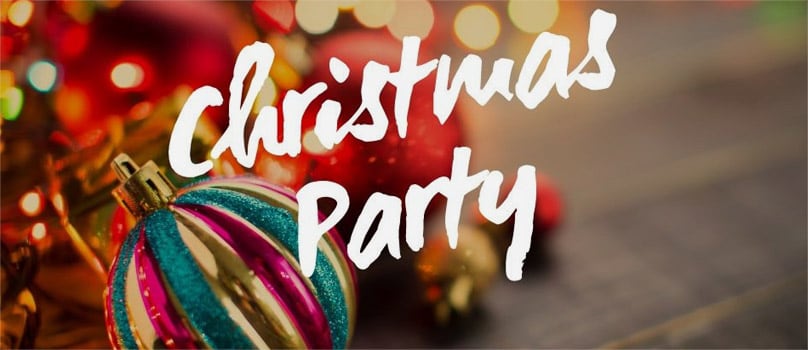 Theme parties are gaining fast popularity. Every party organizer and party goes these days are looking out for parties with enjoyable themes on all seasons and occasions. A theme can turn out any party to be fun and exuberant and can be enjoyed by each guest. If you are throwing a Christmas party, here are some ideas for invitations, decorations, vegetarian food, activities, and more. These ideas will work well for Christmas and also family and friends get-together.
1. Light of the World Theme Party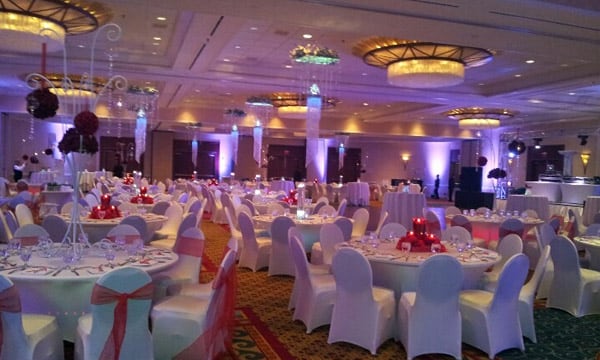 If you are planning to celebrate your Christmas party in the traditional Christian spirit, then you can go for this theme. According to the Bible, Jesus said that his followers are the "light of the world.." (Matthew 5:14). You can follow the light theme by incorporating lighthouse replicas in your food, cakes and decorations.

Invitation

Since it is 'Light of the World' theme, you can make colorful invitation cards and avoid the color black in the text since black resembles darkness. Add some verses from the Bible that speaks of the light symbol. Mention the name of the invitee, venue, date, time and other details that you may like to give. Add a personal message for your guests. Also mention the dress code to be either yellow or something bright relevant to the theme. With each invitation you can send a candle as a souvenir.

Decorations

Keeping with the theme, your decorations should incorporate a lot of lights. Outside the entrance of your house and also in the indoor corridors, hang silver star shaped lights and Swag lights to give a lighted welcome to the guests. Hang colorful christmas lights, string lights, paper and nylon string light lanterns, colorful snowflake lights off the ceiling to create a bright and luminant ambience. Leave a corner of your house unlighted for the guests to lit that up.

Use bright colors for your curtains and upholstery, table covers, napkins, etc. Put up a balloon arch over the buffet table with snowflake linking balloons that will beautify the place elegantly. You can also use a gossamer drape for a beautiful soft light effect over the buffet table. Arrange a seated dinner and decorate the tables with candle stands and candles that are to be lit while having dinner. Place small cards on tables that have scriptures on them from the Book of Psalms. If you have a large room, you can fill it up with glittery snowflake balloons to set in the celebration mood right. As a centerpiece, you can create a lighthouse that can be lit by a candle and place it over a centre table.

Food

For food you can think of a traditional Christmas party menu or bring in some innovations. Try to plan the menu following the theme of your party. Order or make a cake in the shape of a lighthouse especially using the colors red, white and yellow for the light . You can start with a variety of cookies. For appetisers, you can consider broccoli cheese dip and crispy potato cakes. For the main courses you can go with traditional vegetable dishes like spaghetti, pea and asparagus ravioli, mushroom and port brioche followed up with delicious desserts like bourbon chocolate walnut pie, etc.

Activities

A party will be all-so-boring without engaging activities. Play Christian worship songs in the background during your party. Keeping up with the traditional spirit of your theme, you can incorporate some games.

a. Light Candles in the Dark Corner: Jesus said, "I am the light of the world. The one who follows me will never walk in darkness, but will have the light of life." (John 8:12). Let the guests light up candles and place them at the corner of your house that you had left unlighted. Follow it up by making the guests sing karaoke to the worship songs.

b. Bible Memory Game: Make separate teams. The game is to name verbally the books of the Old Testament, New Testament or the entire Bible.

c. Create Salvation Bracelets: Take 6 beads of different colors - black, yellow, white, blue, green and golden. Each colored bead represents one of the 'steps' to following Jesus. Tie a knot in a piece of cord about 3 inches from the end. Slide the beads on. Tie another knot to hold the beads on. Your salvation bracelet is ready to wear on your wrist. Share your faith using it.

Black bead - Sin which separates us from God
Yellow bead - Jesus is the light of the world
White bead - Jesus washes away all of our sin
Blue bead - Water baptism the outward sign of our faith
Green bead - Our faith grows as we read the Bible and pray
Golden bead - Eternity in heaven with God

At the end of the party, give a parting souvenir to the guests in the form of cards with different lines from the Bible.
2. Vintage Party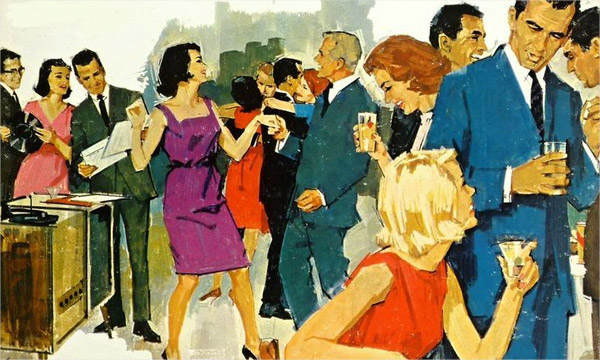 People will just love to get into the theme of your party if they get a chance to soak into the indulgence of the 1920s. This is the current craze when it comes to party theme and this craze owes to The Great Gatsby. With the recent film release, Gatsby-themed parties are one of the most popular themes.

Invitation

Set the mood right with a perfect invitation card inspired from the 1920s art. You can try Atlas font for your text invitation. Along with other details, mention the dress code as vintage fashion for both men and women. Spice up the invitation by sending them a secret code along with the invitation card to get into your 'speakeasy'!

Decorations

Put up a life size flapper cutout of 1920s without a face near the entrance so that guests can come in and pose to take pictures. Place feather boas and gangster hats on the chairs where the guests would be seated. Place chandeliers and incorporate a lot of white lights and string lights all over the party place except the bar area where it should be dimly lit following the Prohibition tradition. 1920s decoration used mostly the palette of black, white and cream. Place a lot of black and white balloons all through the party place.
Brighten up the party room with varieties of flowers and flower bouquets. Set your table with beautiful art decorations. Use solid color tablecloths as black and red. Keep the dinnerware simple with white plates and clear glasses. Wrap gold colored napkins with strands of pearls for an extra 'Gatsby' touch. Place tall vases with battery operated lamps in some tables and let some goldfish swim inside them. In other tables place small round bowls with red roses floating in water.

Give special attention to your bar area. Keep champagne in abundance. Give a special touch to your bar area by hanging stringed pearl curtains thus separating your bar area with the rest of the party room.

Food

Amuse your guests with some delicious vegetable dishes from the book. However, if the menu looks too old fashioned for your taste, bring in some fresh changes. Let your guests indulge into starters like stuffed mushrooms and mini servings of vegetarian Caesar salad. For the main course, serve mushroom risotto, mashed potato and vegetarian enchiladas and burritos. Stock lemon cakes and mint juleps.

Activities

Hire a jazz band or put on some jazz music throughout the party. As the party gets into the mood, put on the 'Great Gatsby' soundtrack. Hire a Charleston dancer to teach the guests some moves on arrival so that they can have fun through the dance session. Set up a games table of checkers, cards, dominoes, etc. to keep the guests entertained. Have an extensive photo session with your guests.

At the end of the party, give your guests the black and white balloons as a reminder of the fabulous party night. Also print out the pictures clicked in black and white and send them later as a souvenir.
3. Mexican Fiesta Party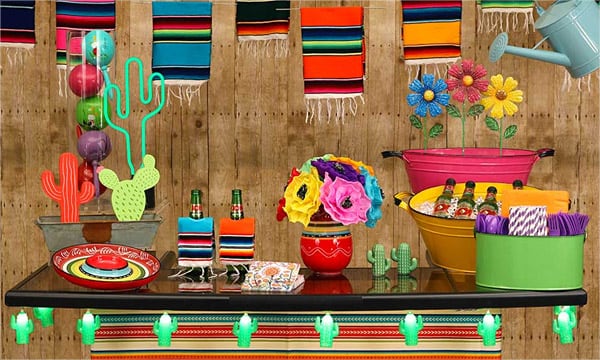 This is another fun filled party theme that can be enjoyed with your folks both in the summers as well as winter afternoons. It is best to host a Mexican Fiesta party outdoors. It is all about family and folks, food and fun!

Invitation

Go for a colorful invitation. Send in the party details in a colorful paper and roll it up with a fiesta bandana. Mention the guests to wear that bandana into the party in the invitation paper. Include some fiesta theme words in your invitation like seniors, señoritas, margaritas, fajitas, siesta, etc. to tune in the fun right through the invitation.

Decoration

Hang a fiesta banner at the top of your party place. At the entrance, place lifesize female and male mariachi or flamenco dancer cutouts. Transform your place into a fiesta party hub with lots of colorful paper lanterns and decorations, colorful balloons of different shapes. If you set the party outdoors, make sure that there is a lot of sunshine over the place.

Spread colorful tablecloths over the tables and decorate the chairs with fiesta tinsel garlands. Small vases with fiesta flowers can make great centerpieces according to the theme. Plates can be white teamed with colorful napkins tied with colorful beads.

Food

Include Mexican dishes in your theme party. Start with appetizers like an array of salsas and sauces, vegetarian Tex-Mex taco dip and tortilla soup. For the main course have the likes of Mexican rice, tortillas, vegetable tacos, baked stuffed potato skins and vegetable quesadillas. Give a sweet treat to them with Latin sundae and Margarita pudding. You can also stock beer for your guests.

Activities

Pep up the party with some fun games. Arrange a Mexican hat dance competition and select the best dancer. The winner will have a beer bottle as the prize. Take a lot of pictures of your guests posing as the female or male mariachi with the cutouts. Play on mariachi band music. A Mexican theme party is incomplete without a Pinata. Get a fun Pinata from any party store, fill it up with candies, coins, toys, etc. and hang it to a tree or elsewhere. Get the guests and let them knock it down and crack it. It would turn the party super fun! You can also include other exciting games like chilli pepper challenge and much more.

Give the guests print out of their photos along with inexpensive DIY photo frames as a party favor at the end of the party.
4. Tree Trimming Party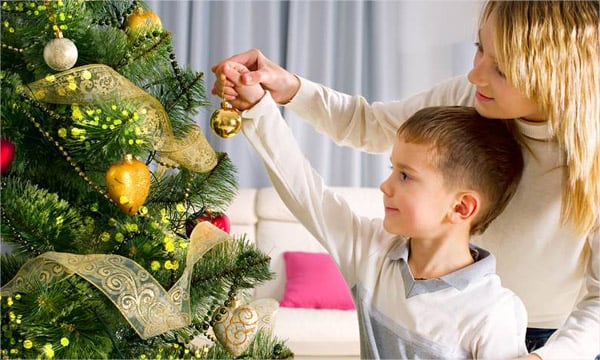 This theme party is one of the most traditional ways of celebrating a holiday. Though old fashioned and traditional, the fun surrounding this party is always afresh. Invite your friends and neighbours for a fun filled cheerful Christmas afternoon celebration.

Invitation

A tree trimming party is equally enjoyable by kids. Instead of indulging into email and text message invitations, make your DIY invitation cards with the participation of your kids. Sit with your kids one afternoon and make your own homemade cards in the shape of Christmas trees. Let your child decorate them with glitters, ribbons, sequins and crayons. You take on the charge of adding the text in the card that includes the name of the party, date, time, place and other details that you would like your guests to have. Also ask each of them to bring some homemade or inexpensive ornaments to put up on your tree.

Decorations

Since this party is more about decorating your Christmas tree, you can keep the party decorations to a minimum. A large open space will be ideal for this party since the guests will be moving mostly in and around the tree. Using your basement for the party is a good idea. Place your Christmas tree in the centre of the room so that it is easily accessible.
Organize the items and ornaments that you would like to put up in your tree in a tray or bowl before the guests arrive. Set up the lights on the tree beforehand through the branches starting from the top. Decorate the rest of the party room with stringed lights, Christmas balloons and ribbons. Set up the buffet table at one side of the room with bright colored covers and napkins.

Food

Keep lots of snacks and beverages for the guests that they can munch on while decorating the tree. Different types of delicious cookies, finger foods, French dip sandwiches, cheese balls, and hot cocoa are just ideal for such party.

Activities

This party will keep the guests busy with the tree decoration. Make the activity all the more fun by creating handmade crafts along with the kids.

a. Prepare Craft : Keep the children busy making crafts for decorating the tree while the adults join in and enjoy the party. Play on a Christmas movie while making air-popped popcorn garlands, cranberry garlands, cinnamon garlands and paper chains. Help them put on these on the Christmas tree.

b. Karaoke: Play popular Christmas festive songs in the background and let the guests sing karaoke to them.

c. Games: Make your party fun by arranging games for kids as the adults watch and get into the fun. Candy cane scavenger, three legged stocking race, blow up the balloon are some of the fun games that all can enjoy.

d. Photo session: Take a lot of photos of your guests and the tree both before and after the decoration.

At the end of the party, you can give a party favor to each of your guests like wrapped up homemade cookies or baked goods.
5. Hollywood Oscar Theme Party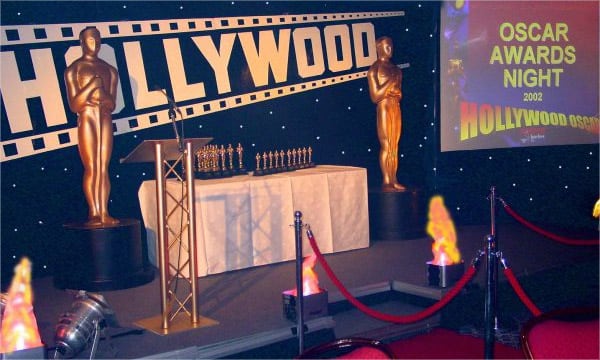 Roll out the red carpet and feel like a celebrity of the night with this party theme. Gather your friends and give a bash with everything in Hollywood style. Get prepared to get a into the spirit of a glamorous night.

Invitation

There are numerous ways of preparing the invitation for this party and you can bring in your own innovations. Go with the theme. Send out personalized ticket invitations that looks like the real ticket of the Academy awards. Include all information that you want to give. Mention the dress code as Hollywood style. Your guests can dress up in the most fashionable way or can imitate their favorite star's style.

Decoration

There are so many options of decorations that you may get confused. However, focus on a limited choice of decorating items to keep confusion at bay. Consider the size of your party room and space, budget and your time of preparation.
The most important thing about the welcome in such an award night party is, of course, the red carpet. Spread the red carpet all through your front walk so that all your guests feel like a star. Light up your garden, bushes and trees with little white twinkle lights. Decorate with glittery bouquets of star balloons all through the red carpet. Choose the colors gold, silver, black and red for the balloons as well as all decors. At the entrance, place a lifesize cutout of a popular Hollywood celebrity to set in the mood through the entrance. At one corner of the party area, make a backdrop according to the theme where the guests can take pictures.

Set up a table with some glamorous costume accessories like boas, glittery hats, crowns, glasses, wigs, etc. to make your guests feel like celebrities.

Set up a big projection screen in the main room so that all visitors can watch the party videos. At one side put up a popcorn bar on a table covered with black tablecloth decorated with golden and silver star cutouts and garlands. Classic red and white reusable popcorn boxes and varieties of toppings should be placed along with theme party napkins.

The dining tables should have white tablecloths with golden and silver star cutouts. You can place clapboards and votive candles as a centerpiece. Set up a separate table for champagne.

Food

Popcorn and various vegetarian finger foods will just go perfect for this theme. For desserts, American apple pie and flag cakes fit the bill! You can also try the French wine dinner if you like to have it different.

Activities

This party is all about entertainment and the activities should also live up to that.

a. Paparazzi Clicks: Hire photographers and videographers to take the pictures of your guests as they pose in the entrance, in front of the backdrop as well as in and during the party. Watch them over the projector.
b. Vote your Pick: Have your guests fill out a ballot with their choices for the best dressed guest, best make-up, best hair-do, best pose, best walking on the red carpet, etc. on your picks.

c. Award Giving: Give out golden statue mementos to the winners of the poll and let the winners speak out about how they feel after winning the award. It can be something exciting and hilarious.

d. Dumb Charades: Make teams and play charades based on movie name and actors. It will be a rib-tickling experience and quite enjoyable for a pretty long time. After all, each guest will get a chance to act and perform!

At the end of the party, give out each of the guests a personalized golden statue cutout as a party favor. Other favor options can be the print out of their pictures along with clapboard photo frames.

So what are you waiting for? Pick up any of these themes for your Christmas party and get ready to make your party become the talk of the town and memorable for a long time!