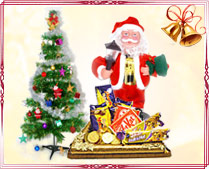 The pioneer online gifting portal, GiftstoIndia24x7.com has recently unveiled its enthralling collection of Christmas and New Year gifts. As the chilling winter breeze has started to tickle us with the charm of upcoming festive season, this online gifting mall is brushing up its service with a whole new enthusiasm. This time, its latest inclusion on this festive season is the Christmas and New Year gift items. GiftstoIndia24x7.com is a name that is ruling the online gifting domain since a decade owing to its proficient delivery service.
December beckons the month long festivity. First, the globe rejoice in the Jesus' birthday on 25th December which is followed by the end of a year and beginning of a new year, known as the New Year Eve. The last two weeks of the December keep us on toe and calls for a unbound celebration. So, keeping this in mind, GiftstoIndia24x7.com has offered an exciting collection of gift items which will suit this festive spirit to the fullest. GiftstoIndia24x7.com let you send enthralling flower arrangements, cakes and other exciting gifts to India to your dear ones.
Christmas celebration remains incomplete without Christmas candles, Christmas trees, stars and special Christmas cakes. So, delight your near and dear ones on this special day by sending these Christmas special items to India through GiftstoIndia24x7.com.
"With the Christmas and New Year gifts offered at our store, convey your warm wishes to your friends and family in the most righteous manner. Enjoy this special festive season by sending these enticing gifts to India and lets have a blast this year", said Mr Amit Desai, CEO of the GiftstoIndia24x7.com.