Range Of Gift Items This Christmas Introduced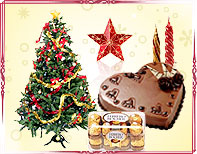 This Christmas GiftsToIndia24x7.com has introduced a range of gift items catering especially to the Christmas festivities. Any person from anywhere in the world will be able to send Christmas goodies to their loved ones in India. Our services cover 400 cities across India and this will have NRIs connect better to their roots. The Christmas products have made this company the one to watch.
The range consist of the following products: Christmas Candles, Christmas Card, Chocolates, Gift-Hampers, Christmas-Trees. Christmas Candles are available in a range of attractive colours and there are many different cards to choose from for that perfect gift this Christmas. Chocolates find a special place in the gift section with Handmade, Chocolate roses, Chocolate Hampers and the all-time favourite-Chocolate cakes. Christmas Hampers have been made available in many different forms and so choosing that perfect gift will be just perfect. The Gifts have been segmented into "Gifts For Him", "Gifts For Her", "Gifts To Parents" and "Gifts To Kids".
"Christmas comes once a year and one should make it special for their loved ones in India", opined our Company CEO, Mr.Amit Desai. The 256-SSL bit technology will ensure complete customer security and so they can be rest assured that their entire transaction through our site will be fool-proof. The delivery services will ensure the gift reach the intended recipient just in time for Christmas festivities.