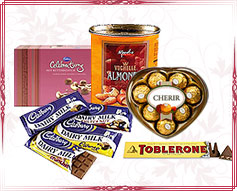 Chocolate is undoubtedly the most preferred food item, loved by any age group all over the world. It is not only delectable but also nutritious as well. This wonder food item made of cocoa beans has various health benefits. Various researchers have found out that dark chocolates are actually good for heart. Moreover, dark chocolates contain a large number of antioxidants which again protects the body from aging, caused by free radicals. Hence chocolates as gift will no wonder be loved by all, irrespective of any occasion or event in addition to gender or age of the recipient. For you, GiftstoIndia24x7.com has arranged a wide collection of delicious chocolates from various reputed brands which you can avail and send gifts to India to enthrall one.

In the Chocolates to India section, you will come across a great variety of delicious chocolates from various reputed brands such as Cadbury, Nestle, Amul, Ferrero Rocher, Lindt and so on. Be it one's Birthday or wedding or anniversary a boxful of delicious chocolates will definitely make one feel cherished. And if it is birthday of your beloved or a gift box for your little star in India, they will feel at the top of the world to receive these. Moreover, GiftstoIndia24x7.com, the age old gifting site has won million of satisfied hearts due to its dedicated customer support team, broad range of articles and on time delivery services. Hence you can be sure that your gifts to India will reach the doorstep of the recipient just at the time of the festivity.

These chocolates would make wonderful gift for your loved ones, be it any occasion or festival. You can browse through the different sections, such as Chocolate and cookies, Chocolate hampers, Handmade chocolates and Sugar free chocolates.

1. Chocolate and cookies - Chocolates when paired with cookies would make an awesome gift for your friends and relatives. The portal has brought to you delicious cookies from one of the reputed brands, Dukes. These crispy and mouth watering cookies will add to the taste of the chocolate. The site has launched a Teddy Bear Chocolate from Lindt, one will just love to receive this on any occasion. To enhance its beauty, golden colored foil paper is wrapped on its body and a red colored satin ribbon at its neck.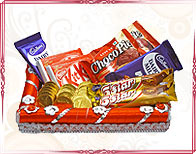 2. Chocolate Hampers - In this hamper section, a great variety of chocolates are showcased ranging from Kit Kat, Dairy Milk, Lindt, Ferrero Rocher, Celebrations and so on. Moreover, these chocolates are again assorted with delicious traditional sweets such as motichoor laddoo, crunchy dry fruits, plush toys and so on. All these articles are arranged in wonderful hand made trays, potlis and baskets. Furthermore, you will be amazed to see the wide collection of hamper to make your pick from. Not only on occasions such as birthdays or anniversaries, these hampers also can be gifted on any festivals such as Diwali, Rakhi, Dussehra and so on, since sweets and dry fruits are considered to be auspicious.

3. Sugar Free Chocolates - GiftstoIndia24x7.com also has arranged a good collection of sugar free chocolates from popular brands such as Valor. These chocolates if sent as gifts will definitely make one happy if he/she is a diabetic or is counting calories. Now they also can enjoy the palatable tastes of these chocolates which come in various flavors ranging from almond to milk to dark chocolates.

Send chocolates on any occasion to bring that million dollar worth smile on your loved ones faces and also let them cherish the moment they receive the items as gifts.