''All I really need is love, but a little chocolate now and then doesn't hurt" Lucy Van Pelt (in Peanuts, by Charles M. Schulz)
When our mind is hovering over the idea of a perfect gift to send to our loved ones on any special occasion, the one thing that's always on the mind is chocolate. Chocolates can make for an indispensable gift for everyone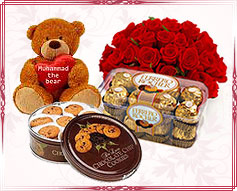 The word "chocolate" is derived from the word Xocolate used in the acient times by the Aztecs of Mexico. It is believed that Chocolate was first noted in 1519 when Spanish explorer Hernando Cortez visited the court of Emperor Montezuma of Mexico. Native to lowland, tropical South America, cacao has been cultivated for at least three millenniums in Central America and Mexico, with its earliest documented use around 1100 BC. The majority of the Meso-american people made chocolate beverages and made drinks out of chocolate. The first use of cacao is said to have been at a site in Puerto Escondido, Honduras, dating from about 1100 to 1400 BC.
Send chocolates to India. Chocolate is made from the beans of Cocoa. From the cocoa bean pods the beans are separated after fermentation. These beans are cleansed and then blown in a process to remove foreign particles and husk. Then the kernel of the seeds is broken in small bits which are called nibs. These nibs are ground finely to obtain what is called cocoa liquor. The liquor when crystallized produces the dark chocolate which is the mother of virtually all other chocolates that are prepared.
Depending upon what goes into it there are many types of chocolates available now. These types of chocolates include cocoa powder, dark chocolate, bittersweet chocolate, semi sweet chocolate, sweet dark chocolate, milk chocolate, white chocolate, Couverture chocolates, and Gianduja chocolates.
Chocolate is a popular gift item that you can give to anyone for any special occasion. You can give chocolate to your loved one with a bunch of red roses. You can wish your friend good luck with this delightful treat. Parents can be greeted happy anniversary with a chocolate basket. The best way to cheer up kids is by gifting them a box of chocolates. No matter what the celebration is, chocolate gifts are sure to bring a smile to the faces of the people who are close to your heart.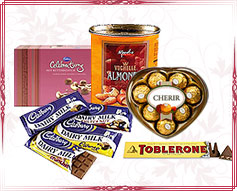 A box full of delicious chocolates can be an ideal gift. A variety of branded chocolates from Cadbury, Nestle, Vochelle, Ferrero Rocher can be included in the box, which is decorated for an artistic appeal. If the recipient is a chocolate lover, he is sure to be delighted with the miscellany of white chocolate, dark chocolate, chocolate with nuts, fruits, and almonds. Chocolates can also be moulded in different shapes like roses, stars, etc. The chocolate roses can be sent decorated with red ribbons and nets.
Chocolates are a great gift for occasions. What better way to say, "I love you" to that special someone than by gifting chocolates on Valentine's Day! Love and chocolates go hand in hand. Birthdays are occasions which demand something sweet. Chocolates to your loved ones on their Birthday will surely be the most preferred gift. On a wedding ceremony , the best way to wish a newly wed couple is to gift them a pack of gourmet chocolates. Chocolates can be treated to a couple on their Anniversary also. Chcolates have such a magic that it can sweeten up any moment of life.
Moderate consumption of chocolates can have many benefits on the various aspects of our health.Chocolates are made from cocoa and acts as a great antidepressant. Chocolates act as a source of antioxidants and thus lower the threats of cancer and cardiac problems. Naturally processed dark chocolates are an excellent source of flavonoids, which are a type of polyphenols, present in plants having antioxidant properties. So the next time you want to bring back a smile on someone's face, cheer up a friend - send them a pack of assorted chocolates.
Be it Diwali, Easter, Holi, Christmas, Rakhi, Eid or any other festival, chocolates are the most precious gift item to send to your family, friends and loved ones. When away from the family, chocolates can be a good long distance gift to send back home.
If you are in a hurry, simply give a single piece of chocolate bar as a gift. Choose the favorite chocolate bar for that special person and tie a small ribbon around it and the gift is ready. Chocolate gifts are indeed ideal for any occasion. Whether it is a basket bursting with chocolate variants, a neatly wrapped chocolate gift box, or a simple chocolate bar, it is sure to make that special day more memorable.