Chocolate Hampers to send as gifts to India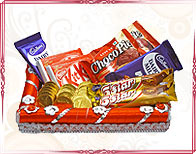 Gifts are welcomed by all. Gifts not only make the recipient feel good to receive but it also make the sender's day memorable. Gifts as token of love can convey your innermost feelings and emotions which you may have failed to express in words. Gifting is an age old tradition to make your loved ones feel the way you feel for them. Nowadays the trend of gifting has become year around matter. Not only on occasion and festivals, people send sorry gifts, thank you gifts, get well soon gifts and also simply to make the recipient feel good.

People used to visit their friends and relatives places on any special occasions and exchange gifts. But now people prefer to send gifts online, which saves time and also a hassle free affair, where one need not to visit shops and store to choose gifts. Being at home you can see a whole website full of gifts that will open with a click of your mouse. GiftstoIndia24x7.com has been into online gifitng since over a decade. Send gifts to india through this online gifting store and win your loved ones heart.

This portal has arranged a great collection of gifts. Moreover, all these gifts are arranged under different categories - Occasion and festival wise, gender wise and age wise, which will make your shopping just a fun. Addition to myriad collection of gifts, GiftstoIndia24x7.com, has also grabbed many eyeballs owing to its on time delivery service and great customer support team. Hence you can be rest assured that your gifts to India will reach the recipient on time and in perfect condition.

Sending chocolates to India is one of the most preferred gift item people send as gifts, no matter what the occasion or festival is. Hence GiftstoIndia24x7.com has arranged a myriad collection of chocolates for you to send as gifts. Chocolate would be a great choice if you are about to send birthday gifts to India. Here in this section a great range of delicious chocolates from various international brands such as Ferrero Rocher, Lindt, Cadbury, Hershey's, Valor and a lot more to name a few.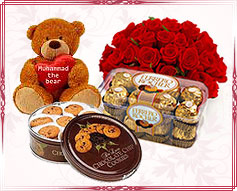 And if you are worried about how to send gifts to India from usa online, you can take the assistance of this portal. Apart from chocolates only, you can also spice up your loved ones treat by adding some cookies such as Danish butter cookies and wafer rolls . You can avail a lot of variations in the Chocolate and Cookies section to make your pick from.


Apart from this, you can also browse through the Chocolate Hamper section, which has arranged a myriad collection of items together to make your gift even more special. Cute plush toys to delicious and crunchy dry fruits to toy trucks, and a lot more items are arranged in handmade beautiful trays. These gorgeous trays give the gift a festive look. A great range of chocolates such as Lindt, Choco Pie, Temptation, Celebration, Bournville, Dairy Milk and a lot more to name a few are assorted in these hampers. Not only you can avail branded chocolates, but you can also see a great range of handmade chocolate sin these hampers.

Who does not like to have chocolate? And your dear ones are no exception. Hence if you are planning to delight your diabetic mom with a boxful of chocolate.
Send chocolates as gifts to your loved ones and make any occasion even more cheerful.