Celebrate Gudi Padwa with Exclusive Gifts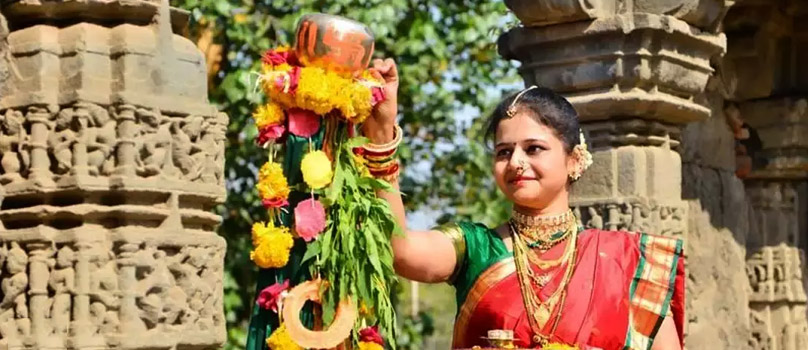 Image Credit : timesofindia indiatimes
India being a country of various caste and religion, celebrate different types of festivals throughout the year. Some of the most popular ones are Holi, Raksha Bandhan, Diwali and so on. Amongst these, Gudi Pawda is celebrated by the Konkanis with great pomp and show as this day marks the beginning of a New Year for them. Celebrated on the first day of the month of Chaitra, it is the most awaited festival. The day usually begins by decorating their homes with mango leaves and 'Rangoli' designs and visiting the temple to pray for a prosperous New Year. Apart from these, exchanging gifts is also one main part of this festival. Thus, send gifts to India on this festival with the help of GiftstoIndia24x7.com and surprise your dear ones.
Since time immemorial, presents are gifted to express ones love and good wishes. Thus, if you browse through our site, you will come across a wide assortment of items which you can send as gifts to India on this festive occasion. We have classified these items into various categories to make your search a little easier. Hence, if you are searching gifts for this festival, you just have to browse through the 'Gudi Pawda Gifts' category. From exotic gift hampers, flowers, apparels to Gifts vouchers, dry fruits, etc, you will find it all here.
For any occasion or festival, gift hampers are the most popular gift among gift-givers. Keeping this in mind, GiftstoIndia24x7.com offers you an exclusive collection of hampers which you can send as gifts to India on Gudi Pawda. Each of the hampers contain items which your dear ones will be delighted to receive on this festival. Delicious sweets, cakes, chocolates, enchanting bunch of flowers, etc, are some of the items included in the gift hampers. Instead of selecting any of these hampers, you can also try something different. Couple several items from our site and send as a gift to India. For instance, you can couple a beautiful bouquet of flowers with a box of chocolates or sweets.
If you are planning to send a gift to your mother or aunt on this festival, you can take a look at our 'Sarees' category. We offer you a wide selection of beautifully designed sarees of various materials, which will certainly thrill your loved ones. To make your gift more charming, you can couple it with an exotic jewellery by choosing from our 'Jewellery' category. We offer you a wide collection of pearl, gold and diamond jewelleries which will be a prefect gift for this festival. For your father or uncle, you can choose a gift from the 'Mens Wear' section. Here, you will find variety of shirts, trousers, shirts and ties which will certainly be appreciated by them.
Apart from these, 'Gift Vouchers' are excellent choices if you do not know the recipient's taste and preference. Depending on the voucher, they can purchase any item as per their preference and taste. From apparels, delicious treats to accessories, jewelleries gift vouchers, you will find it all here. These are some of the items which you can send as Gudi Pawda gifts to India. Apart from these, we also offer you several other items which you can check out by browsing through our site.
GiftstoIndia24x7.com has assisted several non-resident Indians to send gifts to their loved ones in India without facing any hassle. One point which sets us apart from the rest is we offer 24 hours customer care service. Thus, you can place your order for this festival, any time of the day or night.