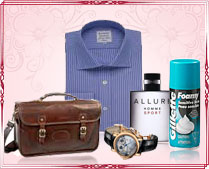 Boss Day is knocking on the doors. So, have you already geared up to impress your boss on this day? Make this Boss Day in 2010 a gala ceremony that will attest all your thanks and acknowledgements to the character you appreciate. Though the celebration of this day is predominantly an western concept, Boss Day in India is gaining much popularity these days. So, start your preparations right now and gift that special person who has been the steeping stone towards your success with the best.
Do something new this time; go online to send your Boss Day gifts to India. To satisfy you in this, GiftstoIndia24x7.com, the premier online gifting company of India, has come up with some overwhelming collection of e-gifting ideas. Rightly says the their CEO, Mr Amit Desai, "Sending Boss's Day gifts to India is the recent trend of the hour. To cater to such a need of the global NRIs we have introduced a vivid and varied range of gifts that is sure to impress your boss in India. So, come with GiftstoIndia24x7.com this time and move closer to him or her to the best."
It is perhaps to attest their CEO's comments that the aforesaid site has unfurled an impressive collection of Boss Day gifts enabling you to send the same to India on this day. Ranging widely from perfumes to electronic gadgets, from gift hampers or gift vouchers, or even showpieces, GiftstoIndia24x7.com is sure to be your ultimate gateway to make a special arrangement for your boss. So, select and send gifts to India on this Boss Day and move closer to him or her all the more.