Celebrate Baisakhi with mouth-watering preparations
Baisakhi is the harvest festival, celebrated by the Sikhs on the first day of the Baishakh month. In the villages of Harayna and Punjab, people celebrate the day by wearing colorful vibrant outfits, roaming around the agricultural field, performing "Bhangra"and singing traditional folk songs. They also visit Gurdwaras and attend processions. Often due to professional commitments, many Indians have to reside in foreign nations. In such situation they are unable to attend such grand festival. If you are missing your dear ones, you take the help from the e-gifting portals. GiftstoIndia24x7.com is an online portal has been assisting the NRIs over a decade to send gifts to India. In this online store you can avail a comprehensive array of gift articles for all occasions and festivals from which can choose and send gift to India.
You will get exclusive plethora of gifts that you can present to your dear ones in India on Baisakhi 2012. Apart from gifts, here are some tips on recipes that you can cook on Baisakhi, which are as follows:-
Coconut Ladoo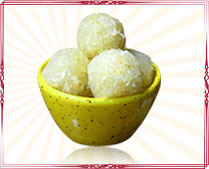 Ingredients required-

* 1 cup of suji
* 11/2 cup of fresh coconut
* 1 tin of milk or milkmaid
* 1 cup of sugar
* 1 cup of coconut powder


Methods

* Pour the suji in a container and roast it for, 3 to 5 minutes.
* After the suji is roasted, keep it in a separate container.
* Add the fresh coconut to the roasted suji, mix them and keep it in a cool place.
* Add the sugar with the milk or milkmaid and mix them properly.
* Add the mixture with the suji mixture.
* Make medium size balls of the mixture and roll it in coconut powder.
* Keep the balls in fridge.


The coconut ladoos are ready to eat. Along with coconut, you can also send delicious sweets as Baisakhi gifts India.
Dry Fruit Kheer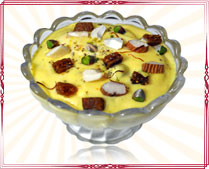 Ingredients

* 1 litre Milk
* 1 or ¾ cup sugar
* Crushed Saffron soaked in Milk
* ¼ spoon Cardamom Powder
* Almond
* Pistachios
* Dried Peaches
* Dried Apricots
* Currants
* Raisins



Method

* Soak Raisins, Apricots, Pistachios, Almond in hot water for an hour.
* Boil the milk with saffron, cardamom and sugar for half an hour.
* Add the dry fruits in the hot milk and stir the mixture gently.
* When the mixture becomes dense, serve it in bowls.



You can also delight your dear ones by sending dry fruits as gift to India for your dear ones.These fresh dry fruits will surely help your dear ones to cook delicious Dry fruit Kheer.

Sarso Ka Sag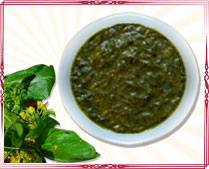 Ingredients
* 1 kg of finely chopped Sarson
* 1/4th fine chopped Spinach
* 2 cm piece ginger
* 4 cloves
* Garlic paste
* 2 Red Chilies
* 2 Green Chilies
* Gram Flour
* Ghee
* 1 tablespoon of Butter
* Salt for taste



Method

* Boil Sarson and Spinach and mash it properly.
* In a pan, pour 2 to 3 spoons of ghee and fry the ginger, garlic, green chillies and broken red chillies. When the ingredients in the pan turn brown, add the mixture of Sarson and Spinach.
* Add gram flour and salt in water, and pour it in the mixture of Sarson and Spinach.
* Stir the whole mixture for 30 minutes.
* While serving, add a spoon of butter on it.



Makki Ki Roti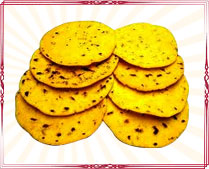 Ingredients

* 2 cups of Corn Flour
* Radish
* Water(warm)
* Salt



Method

* In a container, pour the corn flour , add water to it.
* While blending the flour and water, add radish and salt.
* Take a ball of the blended dough and place it on a plastic paper.
* Press the ball with hands and continue doing it until it becomes round like 'roti'.
* In low heat, bake the roti.
* Apply ghee or butter on the roti and have it along with Sarso Ka Sag.

These delicious recipes will surely help you to organize a grand feasting on Baisakhi. So, make the festival memorable by having mouth watering food as well as exchanging Baisakhi gifts.