Special gifts to amaze her on Valentine's day
Valentine's Day is around the corner. This is a special occasion completely dedicated to the love couples. They celebrate this occasion with joy and enthusiasm. However, on Valentine's Day 2013, if you are not with your beloved, you can surprise her with wonderful gifts. Gifts are the best way by which you can convey your heartfelt emotions. Moreover, the presence of beautiful gifts will definitely make your dear one feel the essence of this occasion.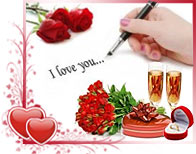 Online gifting has become quite popular these days. Therefore, you can take the help of the e-gifting portal in sending Valentine's Day gifts to India. GiftstoIndia24x7.com is a mega online portal through which you can send gifts to India on Valentine's Day. Its efficient delivery service will help in delivering gifts on time.

In the 'Valentine's Day' gift section you will avail wide variety of attractive gifts. You may get confused by seeing such wide array of gifts. Here is a list of popular gifts that you can opt for your beloved on Valentine's Day.

Flowers - Flowers are the most simple yet beautiful gift items that you can send to your beloved on this special occasion. Lovely flowers such as roses, gerberas, lilies, carnations etc are available in the 'Valentine Flowers' section. These flowers come in various arrangements such as basket, bouquet, vase etc. The presence of these beautiful flowers will surely bring a sweet smile on your dear one's face.

Love Teddies - Girls are fond of soft toys. You can delight your sweetheart by sending cute love teddies. The 'Love Teddies' section comes with exclusive teddy bears, heart shaped cushions and love teddies. You will avail cute teddies on sofas as well as on lip shaped or heart shaped pillows. Beautiful heart cushions that are available in this site are decked with laces and small heart designs. This makes the cushions look stunning. Your beloved will be enthralled to receive these soft toys as Valentine's Day gifts.

Chocolates - Mouth-watering chocolates such as Ferrero Rocher, Cadbury Celebration, Bournville, Temptation, Vochelle Fruits & Nut etc are available in this online store. Convey love to your beloved by gifting a delectable chocolate box. Along with these chocolates, the site also brings handmade chocolates. For the occasion of Valentine's Day, you can opt for handmade chocolates that come in heart shape. These chocolates are beautifully wrapped with colorful papers. Your sweetheart will enjoy having these chocolates on Valentine's Day.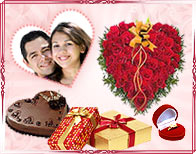 Jewellery - In the 'Jewellery' section, you will avail special Valentine's Day jewellery such as diamond pendants, earrings, rings and so on. She will be overwhelmed to receive such precious gifts on such special day.


Sarees - Saree will be an ideal gift for those who prefer to dress up traditionally. Therefore, you can charm your beloved by gifting beautiful sarees. Sarees such as Matka, Zardosi, Silk, Embroidery etc are available in the 'Saree' section. The sarees come in vibrant colors and with unique designs. She will be pleased to receive such wonderful gift.

Cosmetics - Cosmetic hamper will also be an ideal gift for your Valentine. Cosmetics of various brands such as Lakme, Lotus, Shahnaz Husain etc are available in this site. If you know your dear one's preference you can send cosmetic hamper accordingly.

Gift Hamper - Gift hamper comes with varied collection of gifts such as flowers, cakes, chocolates, fancy bags, vouchers and so on. You can even create attractive gift hampers with your beloved's favourite gift items. For instance, if your beloved is fond of chocolates and flowers you can create a hamper with flower and chocolates.

These are some of the popular gifts that you can send her on Valentine's Day. These gifts will definitely make her feel special.