Send Cakes with Chocolates and Flowers to Bangalore
Making loved ones happy is what one craves for. A family is the greatest strength of a person. A family helps a person take refuge during the rough patches of life. A family is always there when we celebrate our victories and our family is also there when we need help. Friends may come and go but our family always stays with us right throughout our life. Thanking one's family on important occasion becomes a necessity. If you are staying away from your loved ones in a distant land, then sending gifts becomes all the more necessary. GiftstoIndia24x7.com comes to the aid of these people by helping them send gifts to Bangalore. We also help to send cakes and flowers to Bangalore to your loved ones. Making your loved ones happy is just a click away.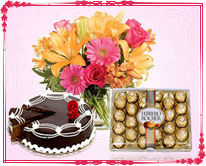 A family is more than just a surname. A family is like an identity which always stays with a person. Thanking them on important occasions is an important duty on our behalf. Cakes and flowers always have played a very important role in every celebration. Be it Christmas, or New Year or important family occasions like Birthdays, Weddings, Anniversaries and Mother's day etc, cakes and flowers are the center of the celebrations. GiftstoIndia24x7.com is an online gifting company that specializes in delivering cakes and flowers to Bangalore. These cakes and flowers Bangalore will be delivered from the top bakeries and florists in the city.
When you want to gift cakes to Bangalore, you must know that we have got some of the widest range of cakes such as normal cakes, special cakes to Taj cakes and 5-Star Bakeries. We have also introduced a brand new range of Kids' cakes which will surely make your loved ones love you all the more. There are popular flowers like Roses, Gerberas and Orchids which will surely floor your loved ones. These fresh flowers are also available in special formations like the exotic arrangements to exquisite Baskets. From flowers in a vase to flower baskets, we have got the perfect arrangements to help you win the hearts of your loved ones, all over again. Sending chocolates is also a good option. When you want to send cakes and chocolate to Bangalore, you can count on us. We have got some of the widest range of chocolates which will surprise your loved ones. When you send cakes and chocolate to Bangalore to your loved ones, you can be rest assured that you are sending them a perfect gift.
So, whether you want to gift cakes to Bangalore or you want to team these cakes along with other gifts such as perfumes, watches, you can always count on us. When you send cakes and flowers Bangalore to your loved ones, you convey to them your deepest respect, love and care. Your loved ones will be surely delighted and will remember you on their special day. Our 24x7 customer-support works round the clock in ensuring the perfect delivery of your gifts to your loved ones. Our customer support also keeps you updated about the delivery status of your gifts, thus guaranteeing your peace of mind. Make the occasion of your loved ones, even more special. Send them exclusive cakes with chocolates and flowers as gifts to Bangalore.