Make occasions special in Bangalore with Carnations
Flowers are loved by all. The beautiful and fresh appeal of flowers brighten up anyone's day. You can send flowers on any occasion or festival. For example, on your dear one's birthday, you can charm him/her by sending a beautiful flower arrangement. The presence of lovely flowers usually leave a positive impact on the recipient's mind and soul. Therefore, send flowers to your loved ones and make them feel special.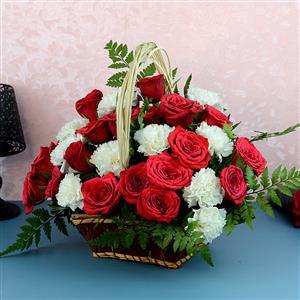 These days people take the help of the online stores in sending gifts as it involves hassle free process. If you are searching a reliable online florist then BangaloreFlorists.com will be the perfect choice. In this online store, you will avail lovely flower arrangements and attractive gifts. With the help of this e-gifting portal, you can send flowers to your dear ones in Bangalore. This online florist will definitely help you to send flowers to Bangalore.

Some of the popular flowers available in this website are Roses, Carnations, Gerberas and Orchids. You will avail these flowers in various arrangements such as in basket, vase, bunch and so on. Pick up the best flower arrangement and send it to your dear one on any grand event. Before you send flowers to Bangalore, you must know your dear one's preference. If he/she loves red roses, you can delight him/her by sending enchanting red rose arrangement.

Meaning and Origin of Carnations

There are many individuals who loves Carnations. Hence, you can opt for Carnation flowers to India online. In this online florist, you will avail various Carnation arrangements. Send these lovely Carnations and amaze your dear ones. The scientific name of Carnation is Dianthus Caryophyllus. The flower is commonly known as "flower of love" or "flower of the gods". There are many people who love this flower for its clove-like scent, ruffled appearance and extended blooming period. There are many stories related with its origin on earth. According to Christians, the first Carnation bloomed on earth was when Mary, mother of Jesus Christ, wept for her son when he carried the Cross for Crucifixion. In early times, Carnations used to come in shades of pale peach and pink. But nowadays, Carnations of various colors such as red, white, purple, yellow and even green are also available.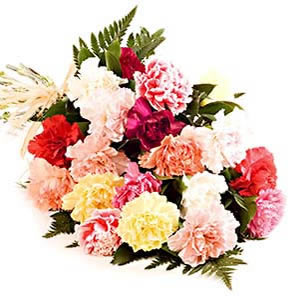 This flower signifies love, fascination and distinction. Different colors signify different meanings. For example, light red Carnations convey admiration while dark red Carnation expresses intense feeling of affection and love. In the 20th century, this flower has become the official flower of Mother's Day.

Top Carnation arrangements available in this website are as follows:-

Beautiful Pink Carnations - This arrangement includes 24 Pink Carnations with green leaves and seasonal white fillers. You can send this flower arrangement to your dear one who loves pink Carnations.

Colourful Carnations - Send this colourful bunch of 20 multi colored Carnation to your loved ones in Bangalore and make the occasion joyful. This festive bunch of flowers includes - 4 red, 4 orange, 4 peach, 4 yellow, 4 white Carnations. This bunch of delightful flowers will surely amaze your dear ones.

Vibrant Red Carnations - This bunch includes 24 red Carnations. The beauty of these flowers will definitely add smile on your dear one's face. So send online flowers to Bangalore and make your dear one feel special.

Yellow Carnations - Surprise your dear ones in Bangalore by sending this lovely bunch of yellow Carnations. Your dear ones will definitely be pleased to receive this bunch of yellow carnations.

Send these beautiful flowers and amaze your loved ones.