Importance of Rangoli on Diwali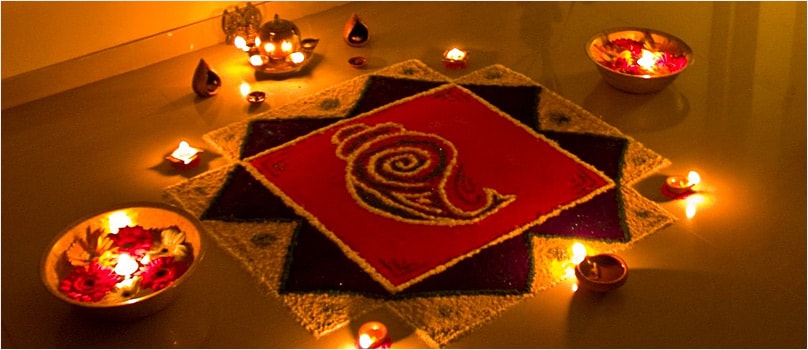 The festival of Diwali is surrounded by many customs and traditions that make up this occasion what it is. Beautiful rangolis are a very significant part of this day and various artistic designs are drawn by the ladies of the house. These flowery patterns are known by different names all over India like rangoli, alpana, kolam and many others. They are made out of coloured powders, thick yet watery rice paste and also colourful flowers. Apart from exchanging attractive Diwali gifts to India, the rangolis also form a distinctive feature of Diwali. This age old tradition is obviously an inseparable part of this occasion and is very important to the celebration.
Importance of Drawing Diwali Rangoli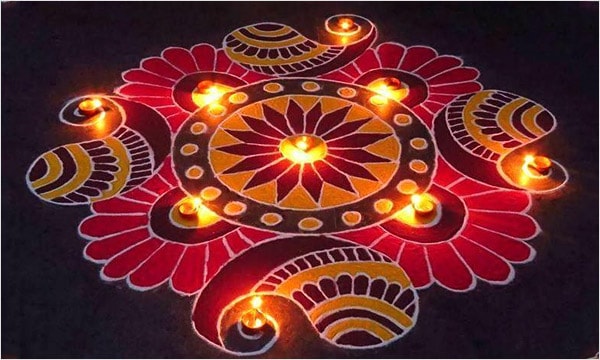 The Diwali celebration is usually incomplete without the drawing of wonderful rangolis all over the house. The word 'rangoli' has a Sanskrit origin and it primarily originated in the state of Maharashtra and later spread all over India. The tradition of rangoli is not just a pretty drawing but it also has a high spiritual importance. It has a deep embedded significance that mirrors one of the ancient traditions of India that concerns treating guests as a manifestation of Gods and Goddesses. A rangoli is drawn mainly to welcome a guest home and during the festival of Diwali a most auspicious atithi in the form of Goddess Lakshmi enters the house. Thus, a rangoli is drawn during this occasion to welcome Goddess Lakshmi into a clean and beautiful home.
Diwali is enjoyed best with close ones at home while drawing rangolis amidst other celebrations. But if you are staying away from your friends and family then you can send online gifts to India to celebrate the occasion. This online gift store has a variety of gifting options for the festival of Diwali that will remind them of you.

Diwali Gifts

This online gifting portal hosts many different types of Diwali rangolis that you can send to India. These rangolis as well as many other gifts make up the Diwali essential gifts on this gifting site. The Wooden Mayur Rangoli has a vibrant blue and green colour and it is in the shape of peacocks. Sending Diwali thalis on this occasion is also a wonderful idea as this is a time for tasting many delectables. The Tempting Kaju Pista Phool is a Diwali mithai thali gift that comes as kaju pista phool sweets on a steel thali.
You can send Diwali mugs for Diwali most of which can be personalized and all of them contain heartfelt messages. The Personalized Beautiful Red Diwali Mug comes in a red colour and it can be personalized with an image of your loved one. There are exclusive showpieces here that you can send for your dear ones for beautifying their homes. The Pretty Parrots Show Piece displays two parrots sitting on branches and made out of bone China.
Knowing more about the importance of rangolis can help us to understand the festival of Diwali in a different light. It can become even more grand with these charming gift ideas that are available on this online gift store. If you want you can also send gifts for your family and friends on other occasions and events from here.