How to send gifts to India on Diwali
Diwali, the festival of lights, is the premier festival for all Indians. Diwali is a National festival from every aspect be it the grandeur, merrymaking or be it the public participation. The chain of clay lamps symbolizes the launch of Hindu new year. Greeting the Goddess of wealth, Lakshmi, with illuminated doorways and colorful Rangolis and other traditional sketches, all mark the great and joyous way of Diwali spree. It is the time to conduct new commercial agreements and business deals. The five day long celebration of Diwali promises to sweep away all evils and negative vices from the mankind. So, if you know when is Diwali in 2011 then you can send gifts to India.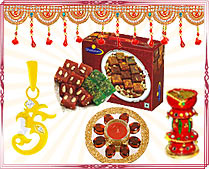 Diwali proffers a break to breathe and be appreciative for all the good happenings in our life. It also bestows a chance to reunite with all those persons who we truly adore and articulate your emotions through exquisite gifts. Exchanging gifts on Diwali is a well known age old tradition which is still maintained wholeheartedly. Plethora of Diwali gifts is overflowing the markets and bazars. The amazed look after receiving the gift followed by the thousand watt smile on that precious face lessens all your fatigue of choosing and buying a gift within a second.

But what happens when you are far away from your near and dear ones ? May be your leave application to reach India in Diwali has not been granted. But your family and friends are dying to see you on Diwali and you do not want to imagine those faces gloomy throughout this whole festive season when others will be enjoying to the fullest. So no matter what you need to send Diwali gifts to India which will compensate your physical absence over there. Gifts sometimes act as a symbol of the feeling or emotions that how much you miss them and also the vehemence of your willingness to meet those special hearts personally. Your gift to India will speak your heart out to your closed ones.

Send gifts to India in any occasion is not at all a difficult task, thanks to the flourishing of online gifting companies. For Indians residing outside India, these companies appear like angels who with their magic wands solve all problems of sending gifts to India from US smoothly and quickly. They are here to connect every global Indians to their root in India. The unique way of sending online gifts has significantly reshaped our idea of sending gifts. Now through these online gift portals many Indians, living abroad, can take part in this grand festival with their friends and families.

GiftstoIndia24x7.com is such an online gift portal with a vast range of gift items suitable for your every relationship of all ages. Its service is a name to reckon with. This site ensures wide variety of gifts with efficient, safe and timely gift delivery system, both in affordable prices. If you want to surprise your loved ones, we have midnight delivery offer for you. Everything is just a click away. This time giftstoIndia24x7.com presents a huge range of exclusive
comprising of Diwali diyas, Candles, door hangings, wall hangings, rangoli and special Diwali sweets. Apart from these gifts, categorized gift sections are also there for you like gifts for him, gifts for her, gifts for kids etc. keeping in mind your each and every special relationships.

Now anyone can easily send Diwali gifts to India through these online gift portals. So if you known when is Diwali then you can convey your warm feelings to your families and friends by sending gifts. Celebrate the magnificent festival with all the valuable sentiments you deeply cherish in your heart.