Historical Significance of Jamshedi Navroz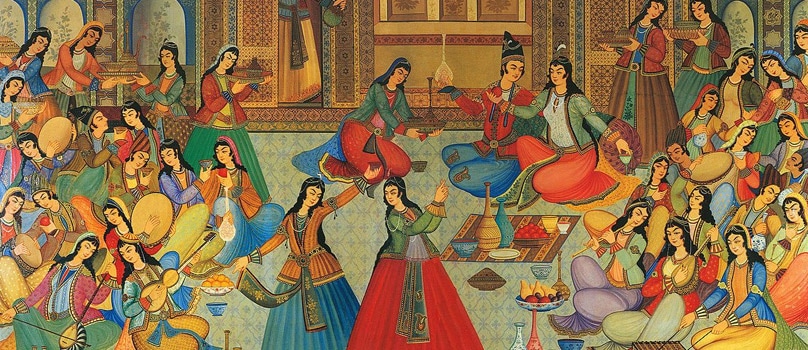 Image Credit : tourismofpersia
Although you are living in a distant land, you are never excluded from the aesthetic Indian traditions on this "New Day" celebrated widely by Persians. If you can't travel there then your love surely can as we send online gifts to India on behalf of you to your near and dear ones. Celebrated from over three thousand years ago, this day holds a remarkable role in the hearts of every Parsi. The roots of Jamshedi Navroz festival lies deep in its history and is remembered for a great king who gave meaning to this Zoroastrian tradition. It would be fascinating to go back in time and remember a diligent king who changed the course of history during ancient Iran.
In the term Jamshedi Navroz, Jamshedi means "of Jamshed". King Jamshed or Yama was the fourth Pishdadian King who sat on the throne of Iran. A jashn or a celebration was held on the coronation of this selfless King who introduced animal husbandry in place of animal hunting. To add on, he was the one who brought changes to the Persian calendar by introducing the solar calculation and the concept of vernal equinox, when the day and night are of equal duration, was brought to light. There are a variety of Jamshedi Navroz gift ideas available on this online gift store for celebrating this event.
The welcoming of fresh spring and the parting rays of sun were devotionally worshiped by the old Iranians during King Jamshed's power. Since then, the Parsis get together like a whole united family and celebrate the festival with love, colours, light and food. People in UK or US send gift to India to their fellow Parsis in order to show their affection. They send gift hampers, chocolates, apparels and combo packs of handmade items with just a click of a button to India. We make available a wide range of personalized India gifts, bouquets and sweets to make them feel more special and these are meant especially for Jamshedi Navroz. The festivities start much before 21st March and last for about 21 days or more.
Image Credit : georgewbush whitehouse
The sun enters the sign of Aries on this day, completing its temporary stay and starts a new constellation, making it a new year for the Persian Calendar. This was first introduced and celebrated by King Jamshed. He guided the devotees to follow this tradition in order to receive blessings like Sareda and he encouraged people to recite prayers. These prayers further helped in the spiritual and ecological development. Thus, this festival of spring equinox is celebrated in the name of King Jamshed as Jamshedi Navroz.
There is an interesting epic tale behind Jamshedi Navroz if we refer to the studies of Iranian history. The traditional beliefs say that there was once a natural disaster, like a snow storm, and God warned King Jamshed about this event. He was advised to take each species with him. So he did so and made an establishment known as Var-e-Jam-Kard. Each pair of species was saved from this disastrous storm as King Jamshed and his entire establishment were settled on a mountain.
Respecting the history and preaching the essence of the traditions in the present makes us who we are. Let us celebrate this auspicious occasion in the memory of the noble King Jamshed with sweets and send India gifts to our relatives and friends in a unique and easy way. Let them feel loved and special in every way possible even if you are away from them.