Gift Hampers as Friendship Day Gifts
Friendship is a form of an interpersonal relationship that is generally considered to be closer than any other association. World Friendship Day is commemorated every year on the first Sunday of August. This year it has fallen on 7th August. This day is celebrated all across the World with a lot of enthusiasm and vigor. As this day aims to bring best friends together, the gift portal GiftstoIndia24x7.com has launched a wide variety of friendship day gifts hampers that can bridge the gap between two strayed friends. If you stay outside India, and due to some personal constraint won't be able to visit India to wish your friend, can send gifts to India and thus can renew your relationship.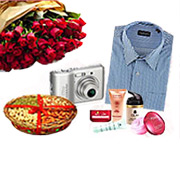 Keeping in mind the utility of sending gifts to friends, GiftstoIndia24x7.com has launched a wide variety of gifts. Gifts may include sumptuous chocolates, heart-felt flowers or gift hampers. Gift hampers are considered a combination of a wide variety of gifts. You can send a bouquet of red roses along with a delicious cake to your friend if you want to disclose your feelings to your friend. If you are out of tract with your friend for a pretty long time this gift will work wonders. Besides that, a pack of captivating sweet perfume, with a teddy and a pack of dry-fruits is also an exciting gift hamper.
You can also astonish your dear friend in India with a bouquet of beautiful flowers. Flowers are considered the most amazing gifts as they speak more than words. So, a corsage of charming flowers along with other gifts like a gift voucher or a pair of watches would constitute a very robust combo.

In the words of Mr. Amit Desai, CEO of the company, "The multifariousness of the gift hampers in the site has helped us earn world-wide name and fame".

For over a decade, GiftstoIndia24x7.com has been assisting non-resident Indians staying abroad to send gifts to India. So, send online gifts through us and avail an un-paralled service.