Different Flowers which can be sent to Bangalore
"Flowers always make people better, happier, and more helpful; they are sunshine, food and medicine for the soul.", Luther Burbank

Flowers are the most beautiful gift items that you can opt for your loved ones on any special occasion or festival. Beautiful flowers usually leave a positive impact on individual's mind and soul. The presence of fresh flowers brighten up anyone's day. Hence, you can send flowers to delight your loved ones on any special event.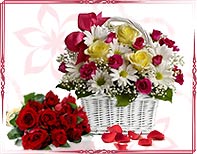 If you are missing your loved ones you can send a bunch of lovely flowers and convey your heartfelt wishes. Nothing would be better than sending flowers to your dear one online. Giftstoindia24x7.com is a mega online floral shop through which you can send flowers to your dear one who is in Bangalore. Beautiful flowers are available in this online store. The flowers come in various arrangements such as in cane baskets, vases and bouquet. Therefore, send flowers to Bangalore and amaze your loved ones.

Some of the popular flowers that you can opt for you dear one on any grand event are as follows:-

Roses - Roses are the most common flowers in the world. They symbolize beauty, love and passion. You will avail roses in various colors such as red, pink, white, oranges, peach and so on. Hence, you can send a rose arrangement to your loved one, if you know his/her color preference. In this online florist, you will avail beautiful roses in bouquet, basket and heart shaped arrangement. You can send these lovely roses on occasions like Wedding, Valentine's Day, Anniversary and many more. Send flowers to Bangalore and please your dear ones.


Carnations - The scientific name of Carnation is 'Dianthus Caryophyllus'. This flower is commonly defined as 'Flower of love' or 'flower of the gods'. Its clove-like scent, ruffled appearance and soft color make it everyone's favorite. Hence, if your dear one loves this beautiful flower you can delight him/her by sending Carnations. You will avail Carnations in various colors such as red, pink, yellow etc. Multi-colored Carnation arrangements are also available in this website. Send flowers to Bangalore online and bring a smile on your loved one's face.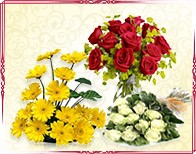 Gerberas - The name 'Gerbera' has been derived from German naturalist Traugott Gerber. Since, this flower signifies cheerfulness, you can send this to your dear one on any joyous occasions such as Birthday, wedding, engagement, anniversary and so on. You can even opt for white colored Gerbera bouquet as a get-well gift for your dear one. The fresh appeal of these flowers will definitely lift up your dear one's mood and spirit.
Orchids - Vibrant colored Orchids are everyone's favorite. Their graceful and exotic beauty captivates everyone's eye. Hence, you can send online flowers to Bangalore and impress your dear one. In this online florist, you will avail varied Orchid arrangements such as 6 Orchids Bunch, Ravishing Orchids, Mistine Dendrobium Orchids and so on. In general, Orchid symbolizes love, wealth, strength and delicate beauty. Impress your loved ones on any special event by sending vibrant Orchids.

These enchanting flowers will definitely mesmerize your loved ones. You can even couple other gifts such as chocolates, greeting cards, soft toys, cakes, personalized items etc with these lovely flowers. Your dear one will be overwhelmed to receive these gifts.