Top 10 25th Anniversary Gifts for Parents in India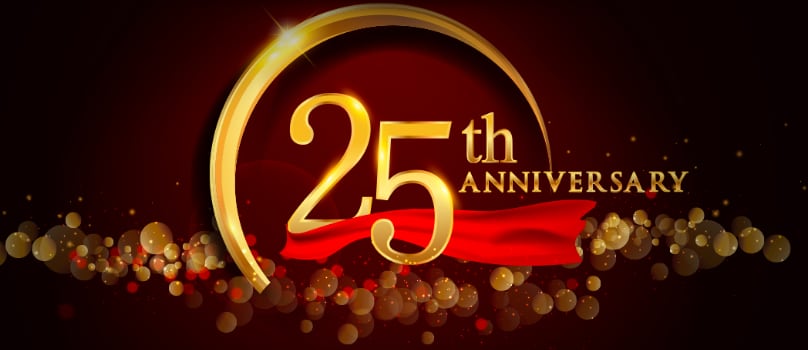 Silver anniversary is the time which shows how a couple has laid entwined within each other's heart for so long being engrossed in true love. Our parents are our guiding stars and these events steer our hearts making us understand the real meaning of love and faith. Mesmerise your parents by gifting them some fascinating items fabricating a flavour of new love within the two. The best possible option of gifts are provided below to make things easier for you.
An Intricate Bouquet of Iris

Flowers bloom to beautify our nature spreading a fragrance of freshness in the air. Gift an intricate arrangement of pretty flowers to your parents on their silver anniversary making them memorise their days of love. Though roses are ideal as a gift for any love filled occasion, Iris is the symbolic flower associated with the 25th wedding anniversary. These pleasant, purple coloured flowers have a delightful aroma lending a pleasurable feeling of love and affection in the air. Irises are sign of good news are are widely used in the 25th Wedding Anniversary occasions. Send love and freshness through such pretty arrangement of iris flowers wishing your parents to look forward in order to spend another 25 years with each other engrossed in pure love.

Elegant Couple Watches from Titan

Celebrate your parent's silver anniversary with utmost style and pomp sending luxurious gifts. Watches not only shows time; it defines elegance, style and beauty. Watches are wonderful gifts and this occasion is ideal for such gifts. Watches are now an integral part of our life for it not only shows time but carries with it a style as well. Gift your parents a pair of silver coloured metal watches giving their silver anniversary a new definition. Couple watches represent a pair of similar looking watches - one for male and another female. Titan is one of the famous watch brand which has a huge collection of wonderful and classy watches. These couple watches are thus eminent for this occasion as they can be a useful item for both your parents.

Personalized Metal Keychains

These are the most unique and special type of gifts that can be treasured. Simple gift items can be given a personalized look surging their value and exquisiteness. These are thoughtful gifts which can surprise your parents. Personalized Metal Keychains are appreciable gift items with the delicate personal touch making it precious. Metal Keychains are sophisticated gift items which will surely impress your parents making their special day remarkable. Since its all about the silver wedding anniversary of your parents gift something classy and aristocratic.

Travel Gift Vouchers for Goa

Gift something different and soothing making your parents feel proud of you. Our parents never think twice before doing the best for us which often destroys their fun of life. Send them on an outing, gifting a travel gift voucher, making them enjoy their special day recapitulating their old memories. Goa can be an ideal spot to relish their memories. Goa is a very small state on India's west coast with only two districts -North and South Goa, beautified with fabulous beaches. This can be a perfect tour for resting leaving all the stresses of life away. A gift voucher for a trip to Goa will make a wonderful gift item delivering your parents a grand opportunity to spend some quality time together with each other.

Shopper's Stop Gift Voucher

Choosing the right choice of apparel often becomes a troublesome job. Vouchers are the perfect options for solving such issues. Let them select from the wide range of apparels and have the best one following their preferences. You can delight them by sending an apparel voucher from Shopper's Stop. Adore them with love and spread happiness treasuring their moments of joy and togetherness.

Special Silver Anniversary Cake

Parties and celebrations always remain incomplete without a proper Cake. This is a special cake baked especially for this occasion of silver wedding anniversary. Enchant your parents by gifting this wonderful cake. The majestic grandeur of this sophisticated yummy cake will itself create an aura of elite love and affection. Cakes hugely symbolise the sweetness, a couple shares for a long time being in deep love with each other. So, cakes are a must for this love filled occasion.

Elegant Mobile Phone from Sony Xperia

Mobile phones can be an amazing gift from you to your parents. This electronic gadget is rapidly generating that fame being the uber device of this generation. Smart phones are taking over the entire market of mobile phones and the best calls for Sony Xperia series. Though these smart phones are equipped with several applications they are very user friendly as well. Your parents will love to use them. Moreover the android touch phones are ideal for passing leisure hours with their diverse functions. This will surely win your parent's heart. So grab a couple of such wonderful smart phones surprising your parents.

Ferrero Rocher Chocolate Hampers

Chocolates are considered as a symbol of love and romance having a magical value. Though an enormous variety of chocolates are available in the market, flavorous your parents with this special chocolate balls. Ferrero Rocher, introduced in 1982 is the world's leading chocolate brand at present. These mouth watering chocolates are assorted with tasty nuts making them delicious and yummy to taste. Delight your parents gifting one such wonderful combo of Ferrero Rocher and some other chocolates as well delivering them the chance to enter into the luscious and chocolaty world of chocolates.

Silver Gifts

Silver Gifts will work wonderfully for this silver occasion. Silver is a metal symbolising Persistence, Purity and Strength. It is believed that this metal has some power over emotions, love and healing having the strength of shredding negativity from a life. Silver Puja Thalis, Puja accessories, silver idols and Silver Shagun coins etc are examples of the varieties from this category which can be gifted to your parents on this special occasion.

Greeting Cards

The best way to convey the truest feelings of your heart is through greetings card. Congratulate the happy couple with a wonderful message delivering greeting card. Enchant their heart with an euphoria of love and happiness. Select a meaningful greeting card and accompany them with some other wonderful gift item creating a rejoiceful mood for your parents. Greeting cards are ideal for expressing your love and gratitude to your parents on this divine occasion.