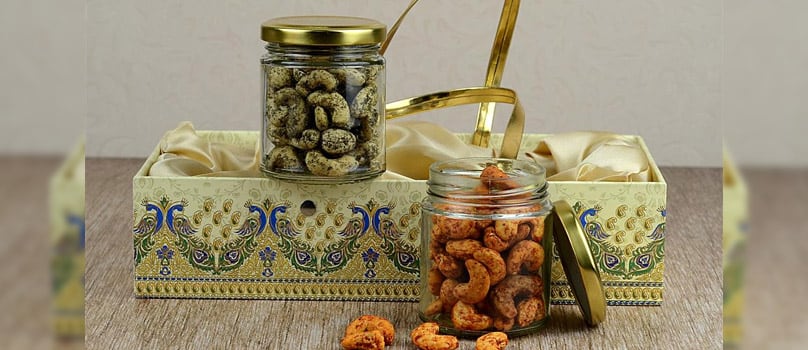 When your loved ones are celebrating a joyous occasion back home in India, it is natural for you to want to be a part of it. Thanks to a little magic from our wand, you can now make your presence felt in any event with friends or family! Gifts are the best way to stay in touch with your loved ones. Of the many gifts out there, dry fruits are a fabulous item that you can pick to fill the heart of your loved ones with joy! Dry fruits, while being very healthy, make for an excellent snack and never lets a foodie down!
GiftstoIndia24x7.com has some of the best and most complete dry fruit gift hampers that you can send online to India. These hampers promise to be a blast at whatever occasion comes at them! The design, content and presentation make the dry fruit hampers a sight to behold and a gift to marvel at! Check out some of the best ones!
Savoury Thali of Dry Fruits:
A complete stunner, this lovely dry fruits hamper comes in a designer thali that will light up any occasion! Attired in a beautiful thali, this hamper is a treat to the eyes! The carved thali comes with two types of Kaju - a plain variant and a flavoured chilli masala variant. Pista and raisins provide excellent companionship to the kaju duo. The neatly arranged dry fruits thali is a simple yet stunning gift that will highlight any occasion!
Four Corners Dry Fruit Thali:
Squares within a square is a beautiful design! This thali of dry fruits embodies that design with a twist! The soft-touch embroidered thali comes in an exquisite design. Inside, four types of dry fruits populate each corner and make a pleasing picture! As for the dry fruits themselves, kaju, pista, almond and raisins have you covered on all fronts!
Regal Designer Box With Dry Fruits Jars:
This stunning hamper means business! There is nothing more charming than "wrapping" your gifts up in a regal wooden chest with a lovely designer work, handle and everything! Inside the box, you would find four jars - each filled with different dry fruits! Kaju, pista, almond and raisins are here to make things look even better!
Black Box of Surprises:
Classy and exquisite, the surprise of dry fruits that this box delivers is unlike any other! Arranged in a diagonal fashion, kaju and almond make a breathtaking combo which will be the centrepiece of any occasion!
Chocolicious Dry Fruits Combo:
Combining amazing things can lead to pleasantly unexpected results! This pack of Dairy Milk chocolate bars form a combo that would stop anyone in their tracks! Occupying a designer thali, there are Bournevilles, Crackles, Fruit & Nuts and Roast Almonds. These have found their perfect companion in kaju & raisins!
Classic Dry Fruits Delight in a Golden Box:
Nothing speaks "festive" more than an embroidered golden box and fabulous combination of dry fruits! The beautifully crafted box holds raisin, almonds, pista and green masala kaju! Delight greets anyone who opens this fabulous box!
Premium Chilli and Masala Kaju Basket:
What's better than a traditional basket filled with absolutely delicious gifts? Get the festive mood going in full swing with this stunning premium basket of dry fruits! The basket is lined with a satin cloth which holds two jars of flavoured masala and green chilli kaju!
Carved Box of Dry Fruits Combo:
Wood has a touch of class. Make this dry fruits hamper the classiest gift on a festive occasion by sending it to India! The box comes packed with three varieties of flavoured and non-flavoured kaju and a pack of almond. All this will give the feeling of joy to anyone who opens the box!
Kaju & Almond in a Golden Bowl:
This exclusive gift hamper sets a new benchmark for dry fruit hampers! The simplistic yet attractive design is a class apart and makes the occasion ever so grand. The gift set comes with a tray and a golden bowl set. The bowls hold kaju and almond. The complete set is a sight to behold!
Decorative Blue Box of Happiness:
If happiness came packed in a box, then this gift hamper would be that box! The soft-touch beautiful blue box is an amazing wrap for lies underneath! The box comes packed with masala and chilli masala kaju which sets the stage for a great snack. Mawa pista barfi and Silk Oreos sweeten the taste after that!