Gift Delivery Statistics

for Jodhpur

No. of gifts delivered in Jodhpur - 333
About

Jodhpur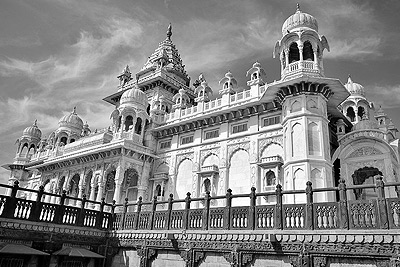 Jodhpur is the second largest city in the Indian state of Rajasthan and officially the second metropolitan city of the state. It was formerly the seat of a princely state of the same name. Jodhpur has historically been the capital of the kingdom known as Marwar, which is now part of Rajasthan. Jodhpur is a popular tourist destination, featuring many palaces, forts and temples, set in the stark landscape of the Thar Desert.

The old city circles the fort and is bounded by a wall with several gates. However, the city has expanded greatly outside the wall over the past several decades.

Jodhpur lies near the geographic centre of the Rajasthan state, which makes it a convenient base for travel in a region much frequented by tourists.

Source : Wikipedia
PIN Codes

in Jodhpur
These PIN Codes are those where we can arrange delivery of Gifts to Jodhpur .
"HD" represents "Hand Delivery". For these PIN codes, delivery will be done by hand on the date you choose.
"CD" refers to "Courier Delivery". For these PIN codes, the gifts will be shipped through our shipping partners & will be delivered during the range of dates selected by you.
CD

Courier Delivery

HD

Hand Delivery
Same day delivery of gifts to Jodhpur
GiftstoIndia24x7.com brings to you amazing gifts to be delivered in Jodhpur with same day delivery service which delivers gift within one day of placing an order. We bring to you a lot of gifts option like Flowers, Cakes, Chocolates, Sweets, Fruits and many more gift items, which are perfect to send to your dear ones and celebrate an occasion together. Our same day delivery will never disappoint you as we know what emotions are attached to your gifts and we want to convey it through your gifts.