Gift Delivery Statistics

for Ranchi

No. of gifts delivered in Ranchi - 803
Popular Categories

Top Selling Gifts

Currently Trending Gifts
About

Ranchi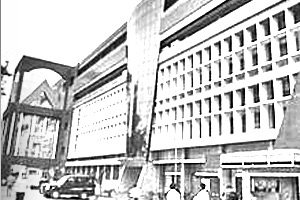 Ranchi lies at 23°22'N 85°20'E. Its municipal area is 175.12 square kilometres, and its average elevation is 651 m above sea level. Ranchi is located in the southern part of the Chota Nagpur plateau, which is the eastern section of the Deccan plateau. The Subarnarekha river and its tributaries constitute the local river system. The channels Kanke, Rukka and Hatia have been dammed to create reservoirs that supply water to the majority of the population. Ranchi is the capital of is the capital of the Indian state of Jharkhand. It is also the third most populous city of the state. The name Ranchi is derived from the previous name of the Oraon village at the same site, Archi. "Archi" derives from the Oraon word for bamboo grove or stave. According to legend, after an altercation with a spirit, a farmer beat the spirit with his bamboo stave.Ranchi is known as the "City of Waterfalls" because of its numerous waterfalls, the most well known of which are Dassam Falls, Hundru Falls, Jonha Falls, Hirni Falls and Panchghagh Falls.
PIN Codes

in Ranchi
These PIN Codes are those where we can arrange delivery in Ranchi .
"HD" represents "Hand Delivery". For these PIN codes, delivery will be done by hand on the date you choose.
"CD" refers to "Courier Delivery". For these PIN codes, the gifts will be shipped through our shipping partners & will be delivered during the range of dates selected by you.
CD

Courier Delivery

HD

Hand Delivery
Can Gifts be Delivered to Ranchi on the Same Day?
Have you forgot to place order until the last moment? Do not worry as we offer you Same Day Delivery of Gifts to Ranchi where your ordered gifts will reach your loved one within one working day. With Same Day Delivery you won't miss the occasion and will be able to celebrate the birthday, anniversary or any other occasion of your loved ones.
How to Send Gifts at 12 O'Clock Midnight to Ranchi ?
We have the option of Midnight Delivery that delivers gifts to your loved ones in Ranchi at 12 o'clock midnight.
We have in store gifts like cake, flowers, soft toys etc that you can send to your someone special on occasions like birthday, anniversary and surprise them with the gifts. We have a reputation of on time delivery and so all the gifts will be delivered exactly at midnight.
Midnight gift delivery in Ranchi
Gifts are an integral part of celebrations, be it a birthday or an anniversary. So the next time you wish to send your regards to your loved ones in Ranchi, make sure to choose midnight delivery for them with us. With our wide array of gift items, you can send your dear ones some lovely surprises, that shall be delivered to them right as the clock strikes 12.
Popular Gifts for your Loved ones in Ranchi.
We have in store varied collection of gifts that you can send to your family and friends in Ranchi. The popular gifts you can send are
Can Fresh Cakes be Delivered to Ranchi ?
If you want to send fresh cakes to your loved ones in Ranchi then place your order. We deliver only fresh cakes to the recipient, as we strongly believe in delivering the best quality cakes. We offer different flavours of cakes that you can choose from and it will delivered fresh to your loved ones doorstep. Send other gifts along with cakes and make it a grand gift.
Same day delivery of gifts to Ranchi
The state capital of Jharkhand, Ranchi is known for its tribal heritage, you can now send gifts to your family and friends with one day, with our same day delivery service. The same day delivery service lets you send specified gifts which can be delivered within one day even on the day you place the order. Gifts like Cakes, Flowers, Chocolates, Fruits, Dry Fruits and many other gifts will be delivered fresh to your dear ones and surprise them on special occasions.
I want to send gifts same day to Ranchi . Is it possible?
Of course you can now send gifts to Ranchi. We have one of the widespread delivery coverage, in most parts of India. With the help of this site, not only you get to choose from the vast variety of gifts but also you get to deliver the same within 24 hours of placing the order. Now making your loved one smile is even easier than before.
Can flowers be delivered same day in Ranchi?
Missing your friends and family in Ranchi on a special date? Send them fresh floral bouquets from anywhere in the country or abroad. The site has an elaborate collection of such bouquets comprising freshly bloomed roses, carnations, anthuriums and various other types of flowers. It also has a provision of sending your gift within 24 hours of placing your order to your dear ones' door steps with its same day delivery service.