When is Onam in 2011?
Onam 2011,
9th September, 2011
Onam 2011 - 9th September, 2011
Sun
Mon
Tue
Wed
Thu
Fri
Sat
1
2
3
4
5
6
7
8
9
Onam
10
1q
12
13
14
15
16
17
18
19
20
21
22
23
24
25
26
27
28
29
30
Onam is one of the most popular festivals of Kerala. The festival is often known as harvest festival of Kerala. In the Malayam calender, the festival is celebrated on the first month of Chingam. According to Gregorian calender, this festival takes place in August–September. The festival explicitly manifests the culture, rituals and customs of Kerala. Hence, if your are wondering when is Onam in 2011, it is on 9th September.
The festival also celebrates the homecoming of the well known legendary King Maveli. The ancient legend narrates that Kerala witnessed golden era during the rule of the emperor King Mahabali. Every inhabitant of the state was delighted and happy. He was highly respected and honoured by his subjects. This made Gods jealous of him and they approached Lord Vishnu explaining that King Mahabali has become equivalent to Lord Indra. During this time, King Mahabali visits his kingdom on annual basis and receive the service of Lord Vishnu as gatekeeper in the world of Pathalam. Hence, this grand visit of King Maveli is celebrated as Onam each year. Every citizen of Kerala cherish this festival with pomp and grandeur. They also delight as well as wish the king a happy & prosperous life.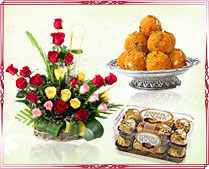 The festival is celebrated for 10 consecutive days. Artistic flower carpets, delicious feast with 11 to 13 dishes, snake boat races, Kaikottikkali and Puli Kali dances etc are the integral part of this grand festival. So if you want to delight your dear ones on Onam 2011, you can send gifts to India through GiftstoIndia24x7.com. The Onam gifts section comes with wide plethora of gift articles that you can opt for your dear ones. Sweets hold a special significance on this special festival. Hence, you can give a mouth-watering treat to your loved ones by sending tasty Indian sweets such as peda, kesar barfi, motichoor laddo etc. Along with sweets, you can also send crunchy dry fruits, assorted chocolates and spicy namkeen packets. Your loved ones will definitely enjoy having these palatable food items.
On Onam, Keralites usually wear new apparels, jewellery etc and enjoy the occasion. So, you can enthrall your dear ones by sending exclusive apparels as gifts to India. If your are searching attractive apparels for your mom, sister, wife or other loved ones then you can send colorful sarees. You can opt for dazzling gold, designer and diamond jewelleries and couple them with beautiful sarees. For your brother, husband or father, you can send t-shirts, jeans, trousers. They will definitely look smart and fashionable.
Apart from the elders, you can delight the kids by sending attractive gifts to India from US such as educational games, chocolates, indoor games etc. They will definitely be overwhelmed to receive these games as Onam gifts. You can make this festival more auspicious by sending precious silver gifts such as silver holy idols, silver spiritual accessories, silver thalis etc. Your dear ones will be pleased to receive this fascinating silver gifts.
Home Decor items will be a perfect gift that you can opt as Onam gift. On this special festival, people usually decorate their house with stunning decorative items. Hence, you can send wall paintings, flower vase, showpieces etc and add special charm to the interior of the house. If you know when is Onam then you can send these gift articles. These gifts will surely make the festival more splendid and jubilant.