When was Karva Chauth in 2015?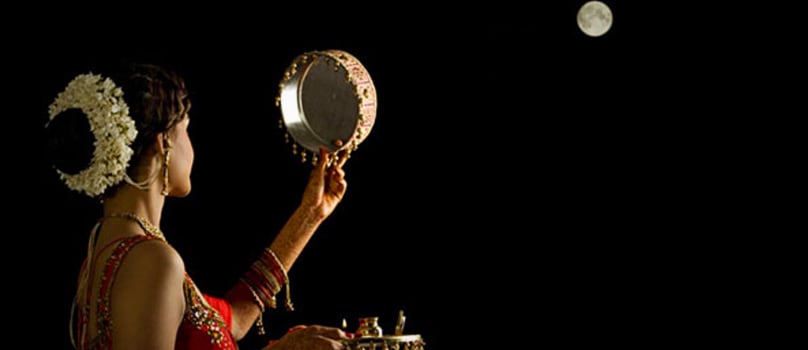 Karwa Chauth is one of the most popular Hindu festivals celebrated in India with dedication and love. If you are wondering when is Karwa Chauth in 2015, it is on the 30th of October which falls on a Friday this year. It is an auspicious day when the wife fasts for the prosperous life of her husband. She breaks it only after looking at the full moon and doing a small puja. The wife drinks water and eats food from her husband's hand at the end of the fast.
History of Karwa Chauth
Karwa Chauth is observed on the Krishna Paksha Chaturthi according to Hindu calendar in the month of Kartik. It originated in the north-western part of the Indian subcontinent during the time of the Mughal invasion. To protect their kingdoms, the men often had to go to war which left the women and children alone. The women, who constantly worried about their husband's safety, observed a fast and performed pujas for their husbands at war. This ritual was also performed by these women on the night before their husbands went off to war. In addition, the women dressed themselves up for their husbands one last time, not knowing when they would get to see each other again.
These regions are predominantly wheat-growing regions. The occasion coincides with the sowing of wheat, which were stored in an earthen pot known as 'karwa'. Thus, another popular theory is that the ritual was actually performed to pray for good crops.
Another popular belief is that it marked sisterhood. In olden times, when teenaged girls were married off to distant places, they were left without any friends or family. Therefore, the new bride was allowed to make a new relation with another same-aged woman who was already married in that area. The bride cherished this 'sister' a lot as the woman was not a part of the groom's family and the two of them could discuss about any problem that might occur in the new bride's marital life. On the day of Karwa Chauth, the new sisters exchanged gifts like bangles, cosmetics etc. which were placed inside 'karwas'.
However, nowadays Karwa Chauth celebrations are generally perceived as the celebration of love between the husband and the wife. Our busy schedule and also geographical distance prevents us from becoming a part of such important festivities as Karwa Chauth. With the advent of online gifting portals like GiftstoIndia24x7.com, you can easily send gifts to your loved ones in India.
Karwa Chauth Gift Ideas
Karwa Chauth puja thali comprising sindur, diya, flowers, sweets, tilak, glass and sieve is an essential part of Karwa Chauth. The silver thalis are gorgeously decked and speak volumes about the culture, thereby making them a wonderful gift to mark Karwa Chauth celebrations.Thalis along with sargi make a superb combination that can be selected to send gifts to India to the daughter-in-law. Without the mother-in-law sending sargi, the celebration is incomplete. This manifests love and affection in the relation between the duos as the sargi is meant to feed the daughter-in-law amply before she embarks on the fast. It contains delicious food items like sweets and dry fruits, besides other goodies.
There is also a rich collection of fruits oozing with luscious grapes, mangoes, pineapples, apples, bananas and guavas which will be a treat for the bahus. Besides, chocolate hampers stuffed with delectable chocolates like Bournville, Ferrero Rocher, Belgian raspberry chocolates along with Danish butter cookies make an amazing gift as well. Treat your lady or daughter-in-law to some yummy collection of handmade chocolates to honor her sacrifice.
Gifting dry fruits is also great as it consists of some of the healthy yet tasty items. Right from raisins, crunchy almonds, roasted pista and walnuts to sweet and salty cashew nuts, the collection has it all to pamper your beloved. And they come in such gorgeous packages that it is hard to resist! Speaking of irresistibility, karwa chauth is incomplete with mouth-watering sweets. Delicious kaju barfis, laddus, sohan papri and pedas, freshly prepared as gifts to India, take the cake away. The sweet hamper available in myriad beautiful boxes can be teamed with flowers. Bouquets with orchids, gerberas, carnations, roses found in vases or in life-sized arrangement format are just perfect to set the occasion in motion.
Jewellery, be it gold, silver or fashion, is something that pampers a woman greatly. Send her pendants, necklaces, earrings and bangles made of diamond or a nice set of gold bracelets and rings and have her enthralled this Karwa Chauth. You can also fill her life with beautiful fragrances with perfumes from CK or Dior along with personal care hampers. Make-up kits comprising of lipstick, nail paints, hair cream, shampoo and facial masks from Loreal, Olay or Himalaya are a great way to show concern and love. Enable her to take care of herself by gifting natural beauty care products. Apart from these, watches from Tommy Hilfiger would definitely find its place amongst fabulous Karwa Chauth gift ideas. There is also pohi that a daughter-in-law presents to her mother-in-law. It is an ensemble of spiritual gifts with goodies that convey respect and love wishing her the best in life.
Make this Karwa Chauth more special by sending gifts to your loved ones in India. If you choose our website, we will definitely make it a point to deliver your chosen products to your wife, daughter-in-law or mother-in-law who is not being able to be with you on this special occasion.