Image Credit : laurenlaboyteaux
The family is the most important social unit in the whole world. Every culture and country attempts to popularize the importance of family and how it influences an individual's life. The members of our family add meaning to our lives. Therefore, every year May 15 is celebrated as the International Family Day to make us realize the importance of family in our existence. The International day of Family was founded by the United Nations in the year 1993.
In the modern world, the significance of the family unit has become more important, but at the same time the unit has also been damaged due to a fast paced life style. The love and affection that one receives from their family members, help an individual to forget his personal shortcomings and enjoy a merrier life. Therefore the International Family Day gives every individual a wonderful opportunity to cherish the special bond that one shares with their own family members.
When is International Family Day in 2013?
This year International Family Day will be celebrated on May 15.
Popular Gifts for International Family Day
The International Family Day gives you the perfect opportunity to express your family the important role that it had played in your life. If you are living far from your loved ones, you would always like to send International Family Day gifts to India, back home to your family, to know how much they mean to you and how much you miss them.
In India it is customary to make every occasion special by sending gifts. To send International Family Day Gifts to India you can avail the services provided by the web portal of GiftstoIndia24x7.com. The decade old, trustworthy service of this web portal provides you with a huge array of products that you can send as gifts to India . Any celebration remains incomplete without the exchange of gifts and by logging into the website of GiftstoIndia24x7.com you will be able to make the perfect pick for every member of your family and let them know your heart's deepest feelings.
The "Gifts for Him" section of the web portal GiftstoIndia24x7.com presents you with a variety of men's gift products that you can send to the male members of your family when you send gifts to India. It is very difficult to choose a gift item for a man, but with the products available in our website, this task has been made extremely easy. The men's section consists of items like electronic gadgets, men's accessories, men's wear, men's hampers and many more. Each item belongs to the best brand available in the market, and all the items are useful and stylish at the same time.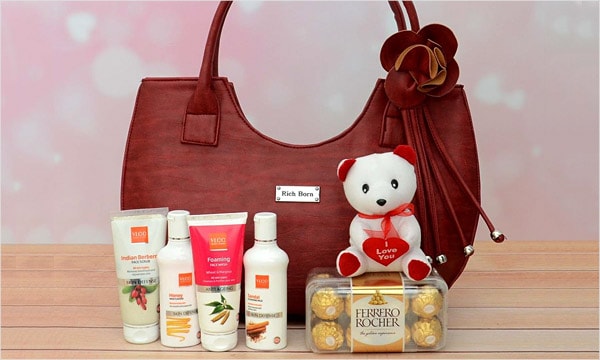 This section consists of the perfect gift items for your mother, sister, wife, aunt or any female member of your family. We have a wonderful collection of cosmetics, accessories, dresses, kitchenware and everything else required to make a woman feel really special on this joyous day.
When you send International Family Day gifts to India, how can you forget the little one's of your family. For the tiny ones of your family the web portal of GiftstoIndia24x7.com has brought an exclusive range of gift products. This section includes chocolates, educational games, soft toys, school products and many more. These gift products will help the kids in your family to have a joyous and wonderful childhood.