When is Guru Purnima in 2012?
Guru Purnima 2012, 3rd July , 2012
Guru Purnima calender 2012
| | | | | | | |
| --- | --- | --- | --- | --- | --- | --- |
| Sun | Mon | Tue | Wed | Thu | Fri | Sat |
| 1 | 2 | 3 | 4 | 5 | 6 | 7 |
| 8 | 9 | 10 | 11 | 12 | 13 | 14 |
| 15 | 16 | 17 | 18 | 19 | 20 | 21 |
| 22 | 23 | 24 | 25 | 26 | 27 | 28 |
| 29 | 30 | 31 | | | | |
The full moon day in the Hindu month of Ashad (July-August) is considered as the auspicious day of Guru Purnima, a day sacred to the memory of the great sage Vyasa. He wrote the four Vedas, 18 Puranas, the Mahabharata and the Srimad Bhagavata. Vyasa taught the great guru Dattatreya, who is regarded as the Guru of Gurus.

On this auspicious occasion, all the followers pay tribute and honor to Vyasa in honor of his divine personage and all followers perform a 'puja' of their respective spiritual guide or 'Gurudevs'. This day has great significance to the farmers, for it precedes the setting in of the much-needed rains, as the advent of cool showers bring in fresh and new life in the fields. It is a good time to begin your spiritual lessons. Traditionally, spiritual seekers begin to concentrate their spiritual 'sadhana' from this day. The period 'Chaturmas' ("four months") begins from this day. In the past, wandering spiritual masters and their followers used to settle down at a place to study and discuss on the Brahma Sutras composed by Vyasa, and engage themselves in Vedantic discussions. Now if you are curious to know When is Guru Purnima in 2012, please note that Guru Purnima 2012 has fallen on 3rd July.

Guru can be anyone, your parents, elderly people or teachers. Hence show respect and homage to your loved ones on this occasion of Guru Purnima with bundle of attractive gifts. All we know gifts and occasions go hand in hand. And with the development of science and technology, the trend of sending gifts have gone online. People now seek the help of gifting portals to send gifts to their friends and relatives. GiftstoIndia24x7.com is one of the most reliable and efficient avenue to send gifts to India. Its widest range of gift items and proficient and round-the-clock customer support team make the site different from others. Whatever be the occasion, you are sure to find gifts for any occasion of festival.

Now when Guru purnima is just round the corner, you must have planned something special for your loved ones. If you are staying with them, you can take them to a nice trip or to restaurant for a wonderful treat or to watch a movie. No need to worry if you are settled in a foreign country, you can take the assistance of this e-gifting portal to send gifts on this auspicious occasion. Apart from all other gifts, the store has stocked a myriad of magnificent Guru Purnima gifts.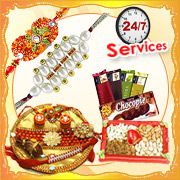 Sweets and Indian festivals are closely related . Since gifting or having sweets on any special events here is considered to be traditional and auspicious, send a boxful of delicious sweets to make the ambiance even more joyous. In the sweets section, kaju gujia, badam barfi, kaju suraj, kaju barfi and a lot more you will get to see in here. Special mithai thalis are also available herein, which includes crunchy dryfruits, kaju barfi, mewa peda, badam barfi and so on. Alongside these, you can also send assorted sweets available in the sweet hamper section. Moreover, tinned rasgullas and gulab jamun from all popular brands are too available. Adding tasty dry fruits along with a box of sweets can further enhance the charm of the event.

A plethora of silver gifts and spiritual gifts available in the site by gifting which you can make your loved ones delighted. Shagun coins, holy idols, spiritual CDs and DVDs, spiritual pendant if sent on Guru Purnima will definitely make your loved ones day colorful. All these gifts will add on to the spiritual atmosphere of your loved ones home.

You will love to shop in here by just browsing through the portal. You now need not to leave the comfort of your home to shop and gift. But with the help of Giftstondia24x7.com delight your loved ones and make the day more joyous.