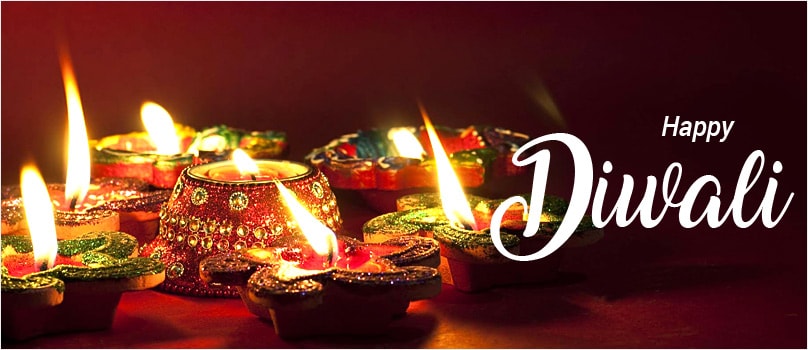 The festival of light, Diwali, is among the most popular festivals around the world and especially in India. Diwali historically celebrates the return of Rama, Lakshman and Sita after their exile of fourteen years. This is also the day of worshipping Goddess Lakshmi and thus Deepavali celebrates this Goddess of wealth. The word Diwali or Deepavali can be segregated as 'deep' or 'lamp' and 'avali' or 'series'. This celebration takes place on the amavasya or new moon night in the Hindu lunar month of Kartik. Thus, if you are wondering when is Diwali in 2016 then we would like to tell you that it falls on the 30th of October which is a Sunday.
Diwali Celebration

The festival of Diwali takes place for a period of five auspicious days with Deepavali falling on the third day. Houses and surroundings are cleaned thoroughly in anticipation of this festival and new paint is also applied at times. Goddess Lakshmi is worshipped during the evening and at some places prayers and offerings are also given to Lord Ganesha. Candles and diyas are lit all over the house and beautiful designs of rangolis and alpanas depicting the feet of the Goddess are also drawn. Crackers are also burnt on this occasion by both young and old and everyone enjoys a gala time. It is also customary to visit relatives and friends on this occasion and exchange sweets as well as other gifts.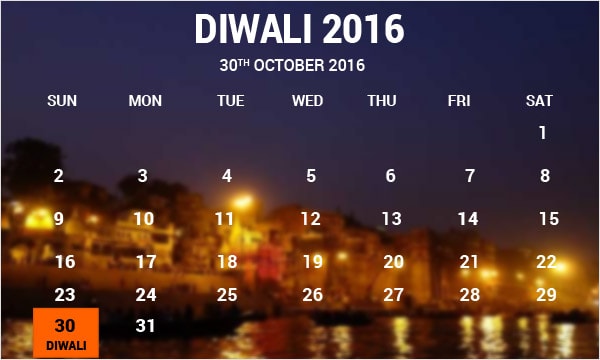 Celebrating Diwali away from your friends and family can be tough and thus something must be done to make the day special for them. Several Diwali gifts to India have been showcased in this online gift store where you can get many varieties. These gifts will be loved by your dear ones and you can surely have a fantastic Diwali with them even if you are far away.
Diwali Gifts

A diverse variety of gifts for the occasion of Diwali are available on this premier online gifting portal. These can be easily selected by you from our gifting site and we can surely send them to your loved ones in India. Diwali mugs are a grand way of celebrating this occasion and many personalized mugs are here. The Personalized Black Colored Diwali Mug has a black inner wall, various images of diyas and a space for your dear ones' image. Several types of Diwali essentials can also make good gifting options as they are required for celebrating this festival to the fullest. The Yellow Rangoli With 6 Diyas consists of six earthen Diwali diyas along with a beautiful yellow rangoli. There are different types of Diwali gift hampers present on this online gift store that contain various delectable and attractive gift items. The Hamper of Chocolates, Dry Fruits and Diwali Greetings Card contains almonds, raisins, cashew nuts, Dairy Milk chocolates and a Diwali greeting card.

You can easily send online gifts to India for Deepavali using these as well as many other gifts. Your friends and family will thoroughly enjoy the many exclusive gifts that have been showcased here. These gifting options can also be used for sending gifts to India for many other occasions like gratitude and condolence.