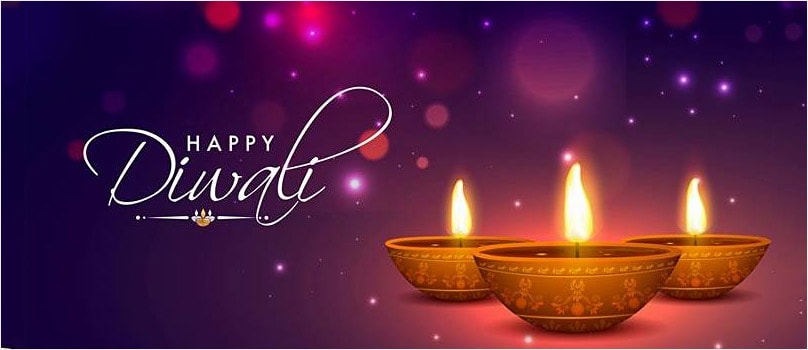 Diwali is arguably the most popular festival of India and there is a lot of pomp and show involving the 'festival of lights.' Millions of Jains, Hindus and Sikhs celebrate Diwali every single year. Fireworks and celebratory events are only the exteriors of this auspicious festival. It is a festival that unites families and brings people closer. The festival marks the beginning of the Hindu New Year. It is a symbol of new beginnings and the victory of good over evil. The festival takes place over a period of 5 days but the actual day of Diwali falls on the third day, after Dhanteras and Chhoti Diwali. If you are wondering when is Diwali this year, it falls on the 11th of November.
Mythology of Diwali

According to the legend of Ramayana, this festival marks Ram's return after defeating Ravana. It is said that Ram was welcomed with diyas and this tradition is still followed by people. You will find brightly lit diyas in many houses across the country as well as rangoli designs at the door entrances. The festival of lights is celebrated with large firework displays and exchange of gifts and sweets among friends and family. Diwali celebrations are always grand and you can expect the people of India to be uplifted during the festive season.

We often have to spend Diwali alone because we stay far away from our friends and relatives. But with so many online websites that allow you to send gifts to India, you do not have to miss out on the fun! If you are looking for Diwali gift ideas you have come to the right place. We have prepared a list of items that are perfectly suited for the auspicious occasion of Diwali.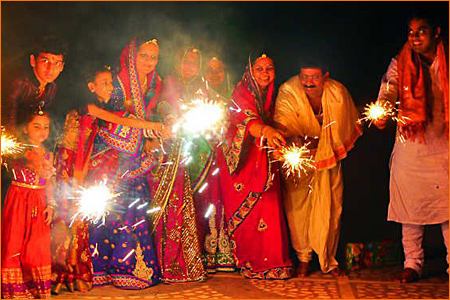 Diwali Gifts

Diwali is incomplete without new apparels and nothing beats the joy of your friends and loved ones when they receive wonderful clothes from you. You may opt for traditional clothes like lehengas, sarees and salwar kameez for the ladies in your life. There are also attractive kurta pyjamas for men. Coupling clothes with delightful Diwali hampers is a great way to brighten up your friends and loved ones' Diwali. Diwali is the time of giving gifts and a hamper will consist of a number of items that will be loved by your relatives in India.You can opt for elegant and useful corporate gifts to India for your friends in India. These gifts will be useful in their everyday office lives.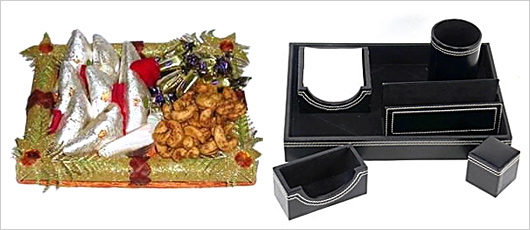 From candles, diyas and crackers to other essentials for the Lakshmi Puja, there is a wide range of gifts for you to choose from. No Diwali is complete without them and therefore they are a must-have. Personalized mugs are a good way to show your dear ones how much you love them and make their Diwali special. Giving silver gifts on Diwali is an age-old tradition. Silver is a symbol of wealth and prosperity and therefore gifting it is considered auspicious.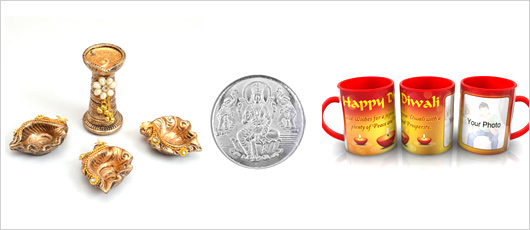 Thalis are an essential part of any festival as no puja is complete without them. You can send a puja thali to your near ones in India and your gift will definitely find a place in their Diwali puja. Our website contains a number of family to family hampers that you can select for families in India who are close to you. Lord Ganesha is also worshipped along with Goddess Lakshmi on Diwali. There is a unique Ganesha collection for you to choose from.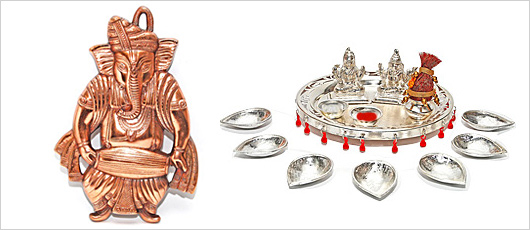 You can gift a home decor item to someone special in India. People redecorate their homes on Diwali and thus this will be a very useful gift. You can also send a shagun gift to your family in India. Giving gifts of shagun is an essential part of this festival. Diwali is a very holy festival and spiritual gifts are very appropriate for the occasion. These gifts will be more appropriate for the elderly members of your family.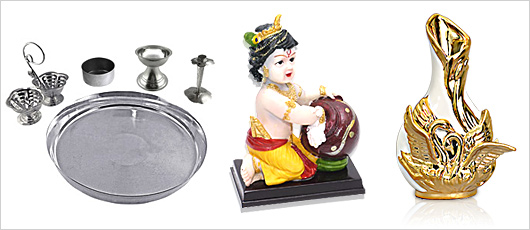 These and other items on our online gifting portal are perfect as gifts for Diwali and will surely elate your loved ones on the auspicious occasion of Diwali. May the festival of lights bring prosperity and joy to you and your family!