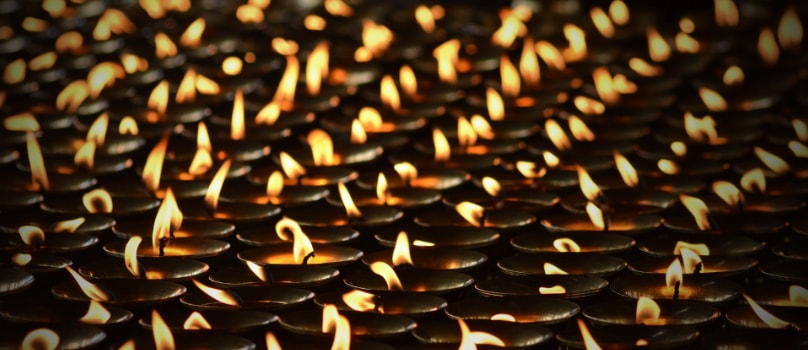 India is regarded as the land of vibrant festivities. Known as the 'Festival of Light', Diwali is the brightest festival among all which is celebrated with enormous zeal and enthusiasm. The word 'Diwali' is derived from the Sanskrit word 'Deepavali', which means 'rows of light'. Observed on the new moon night of the Indian lunisolar month of Kartik, it celebrates the victory of virtue over evil. Diwali is celebrated by every religion with equal vigour creating an ambience of happiness and joy throughout the country.

In the year 2014, Diwali will be celebrated on 23rd of October. It falls on Thursday.
Significance
Celebration of Diwali is associated with eradicating all the darkness and spreading light and hope in the every corner of our life. Predominantly a five day festivity, people celebrate the day by decorating their homes, burning crackers and exchanging gifts. The day holds huge significance in Hinduism, Jainism and Sikhism. It is believed that on this pious day, Lord Rama after defeating the demon King Ravana returned to his ancestral home in Ayodhya after 14 years. The people of his kingdom gave him a grand welcome by lighting diyas throughout the province. Thus, the celebration of Diwali began to commemorate the victory of truth and establishing the rule of righteousness.
According to Jain philosophy, Lord Mahavir, the last tirthankara attained 'nirvana' or 'moksha' on this propitious day. The people belonging to the Jain community observe the day remembering Lord Mahavir and his valuable teachings. Diwali celebrations also have special significance among the Sikh fraternity. On this day, their sixth guru, Guru Hargobind Ji aftering freeing himself from captivity arrived in the Golden Temple. Since then, people illuminate lamps in their houses and gurudwaras to celebrate 'Bandi Chhorh Divas' on this day.
Celebration
The preparations for Diwali start much prior to the occasion. Diwali is regarded as one of the most important shopping periods. Households buy apparels, jewellery, home decors and many more during this festival. People renovate and refurbish their home and beautify it with candles,diyas and strings of electric lights. The floors are decorated with delightful rangolis. Everyone adorns new clothes especially traditional attires. People celebrate the day with their family, relatives and friends. Burning different types of fire crackers, disseminating gifts and sweets, a family dinner are the conventional customs of this radiant festival. On this day, every business firm arranges a special Laxmi and Ganesh puja in their premise.
Gift Ideas
Many people who are away due to their professional obligations return to their homes on Diwali. This exciting festival gives them the chance to meet their parents, relatives and dear ones. If you are unable to be with your family, then you can send heartwarming Diwali presents through GiftstoIndia24x7.com. These delightful gifts will convey your sincere wishes of the occasion.
Decoration of the home is the integral part of Diwali. Choose from the gorgeous assortment of different designer diyas and candles with exclusive diwali rangolis for your dear ones in India. They are the most traditional gifting idea of Diwali which signifies the triumph of morality over evil. With these exciting Diwali Essentials, you can also send special Diwali Thali to your parents and relatives. These thalis are composed of diyas, holy idols and puja accessories which will be the best gift for your parents who always pray for your well being and prosperity. You can also choose from the magnificent Diwali Hampers which comprises of chocolates, sweets, dry fruits and many more.
The festival of Diwali celebrates the true essence of our rich culture and tradition. It fills our life with gaiety and happiness. Your sincere prayers to the almighty and warm wishes to your dear ones will make the occasion memorable.