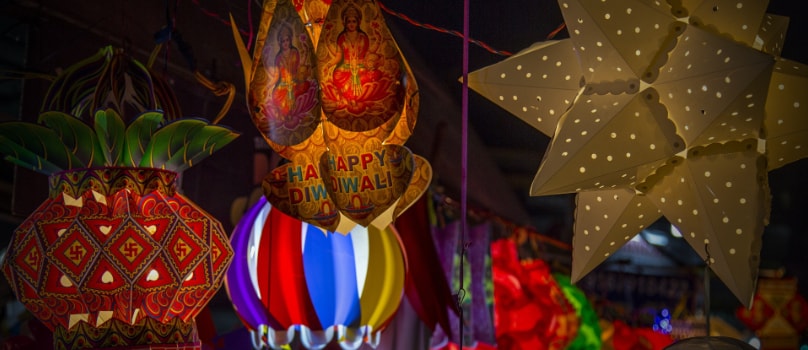 Diwali or Deepavali is one of the brightest festivals of India, celebrated by all, irrespective of any religion or community. This festival of lights is marked by four days celebration and each day has its own tale/ legend. The first day of the festival is Naraka Chaturdasi which marks the defeating of the demon Naraka by Lord Krishna and his wife Satyabhama. The second day of the Deepavali is Amavasya which marks the worship of Lakshmi, the goddess of wealth who is believed to shower prosperity and happiness on her devotees. On the third day of Deepavali is Kartika Shudda Padyami when Bali comes out of hell and rules the earth after getting the blessings of Lord Vishnu. The fourth day is also known as Yama Dvitiya (also called Bhai Dooj) and on this day sisters invite their brothers to their homes for puja and get together..
On the other hand, the festival is dedicated to the worship of Maa Kali, the dark Goddess of strength in West Bengal. On this special occasion Laxmi and Lord Ganesha are worshipped for prosperity and well being. In Jainism, Deepavali is celebrated as a great event of Lord Mahavira who is believed to attain the eternal bliss of Nirvana on this day. Diwali also commemorate the return of Lord Rama from his long exile and defeating the demon king Ravana with his wife Sita and brother Laxmana. On this joyous occasion, the people Ayodhya lit earthen diyas and firecrackers to celebrate
On the auspicious occasion, people get up early in the morning for pujas. They dress up in new apparels and matching accessories. In the evening relatives and friends gather to light crackers and celebrate in a grand way. All make preparations much before the day comes to celebrate the day and make it memorable. People meet their friends and distributes sweets and Diwali gifts to India.
When is Diwali in 2013?
This year Diwali will be observed on 3rd November.
Diwali Gifts Ideas
Diwali is the time when people distribute sweets and gifts among their loved ones. Gifts are the significant part of this grand occasion. Not only gifting personally, people also take the assistance of the online gifting portals to the ones who are staying far away from their loved ones. There are various online gifting store through which you can send Diwali gifts to India.
GiftstoIndia24x7.com is one such gifting portal which has gabbed many attenion owing to its great delivery service, fabulous collection of gifts and dedicated 24x7 customer care support. This portal will definitely deliver your gifts to India on time and in good condition. Moreover its great collection of gifts is just amazing. Hence whatever may be your preference, you can find all it here.
To check all the items arranged herein, you just need to browse through the Diwali gifts to India section. This section is again segregated under different section which will again help you to search the gifts.
Gifts such as earthen diyas, Diwali pooja thali, Diwali candle, Diwali door hanging or wall hanging can send to your dear ones and convey wishes this Diwali. Moreover, sending sweets and dry fruits are popular, hence you can also send with these items and make this Diwali even more eventful. You can also choose hampers which come in assortment of various gifts arranged together.
Not only gifts are segregated according to different items but also gifts are arranged for Him, Her, Kids, Parents and Family. Send gifts to India and add charm to the festival. Your gifts will be treasured for a long years to come.