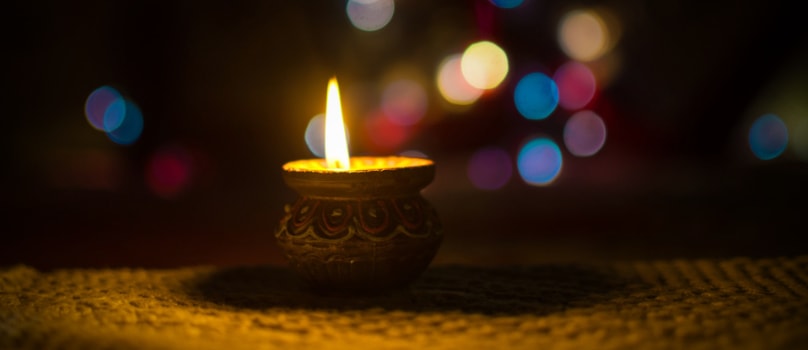 Diwali is one of the most auspicious and holy festivals of India. Diwali in 2010 falls on November, the 5th. The name Diwali is itself a contraction of the word 'Dipavali' that is generally celebrated during the no moon day in the Hindu month of Kartik. Among all Indian community, the festival of Diwali symbolises illuminating of every Indian household with earthen lamps filled with oil and filament. The festival promises great festivity among the Indians - a night of fireworks, with burning of sparklers and crackers. It is perhaps of this, that Diwali has an immense popularity among the Hindus all throughout the world.
The lightening of the diyas vibrates with the main theme of Diwali in India that celebrates the victory of good over evil, light over darkness and knowledge over ignorance. Just like any other Hindu festival Diwali also centers round mythological implications by and large. The very first celebration of Diwali is believed to have performed during the age of Ramayana. In this great Hindu epic, we find a mention of the celebration of Diwali which marked the return of Lord Rama in Ayodhya after being ostracized for a period of fourteen years. The celebrations of Diwali is alsobelieved to mark the slain of the evil demon, Narakasura by Lord Krishna's wife Satyavama.
Diwali in India is a five day long festival, of which the third day is celebrated as Diwali. It is immediately preceded by Dhanteras and succeeded by Lakshmi puja on the very next day. Nowadays, following the footsteps of any other Indian festival, Diwali has also become a time for serious shopping and exchanging of gifts among close kins. Gifting sweets, dry fruits or apparels is a very common phenomenon on this day. And in this age of internet, it is a very common practice to send gifts to India through online media.
To throw a light on some trendy gifting ideas, the first that is sure to find an eminent mention herein is no other but crackers. Since ages, celebrating Diwali with crackers has been a popular practice of the day. The second of course, is some exclusive Diwali hampers. A hamper, being a medley of different gifts, is sure to allow you to present a varied collection packed in one. Then there are different types of Diwali gifts in the likes of diyas or spiritual gifts, etc., that are innovative as well as alluring. Keeping in view the importance of puja thalis in performing the rituals of the day, you can also send the same for your friends and family during this time of the year.
But nowadays, to cope up with the recent career trends, many of us have to leave their home and abode to settle abroad. And the US, being one of the favorite overseas destination, Indians today eye for some reliable avenues to send gifts to India from USA. This desire has been made easy with the advent of some ground-breaking inventions in the fields of computers and internet. With this progress, the term e-gifting become a global lingo to avid shoppers, thereby mitigating the obnoxious barriers of time and distance. With this recent developments now it has been a lot easier to send your Diwali wishes to USA from anywhere of India to let someone feel the beauty of the festival to the hilt.
Today the celebrations of Diwali represent reaffirmation of hope, a renewed commitment of friendship and goodwill, and a religiously sanctioned celebration provoking the simple joys of life. The gesture of gifting, therefore, attests this very theorem to the core. The availability of a large number of online sites will definitely come handy in delivering your Diwali gifts to India on time. Send your unblemished love, care, and affections of the day to your near and dear ones and let them feel your touch. So start your preparations right now, and make this festival of lights an occasion to be cherished for an elongated period of time. Enjoy Diwali 2010 with all zest and joy. Have a safe and prosperous Diwali!