When was Dhanteras in 2012?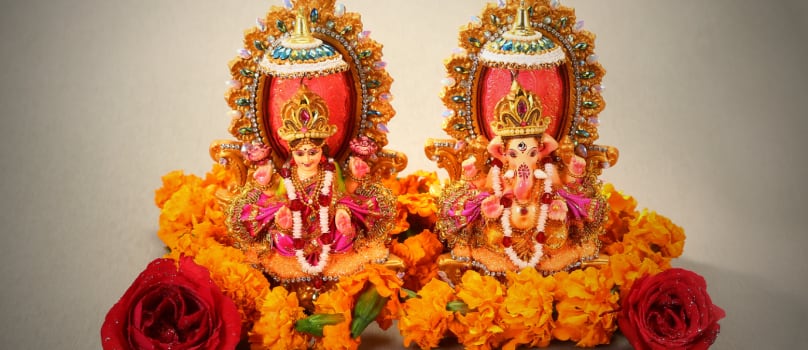 Dhanteras is an important Hindu festival of India. The festival is celebrated on the first day of the five days Diwali celebration. This festival is also known as "Dhantrayodashi" or "Dhanvantari Triodasi". The term 'dhan' means wealth. On this auspicious day people worship Goddess Laxmi for wealth, prosperity and well being. People even buy precious metals like gold, silver as it signifies good luck. Every Hindus celebrate this festival with lots of pomp and enthusiasm. As per Hindu calendar, the festival falls on thirteenth lunar day of Krishna paksha of the Kartik month.
When is Dhanteras in 2012?
This year Dhanteras is on 11th November.
An interesting legend is associated with this festival relating to the 16 year old son of King Hima. He had predictions that on the fourth day of his marriage, he will die with the snake bite. Knowing this, his wife laid out all her jewellery and gold coins in a heap at the doorway of his sleeping chamber and lighten the whole palace with lamps. God of Death, Yama disguised himself as a serpent and arrived at prince's doorstep. However, his eyes dazzled and blinded by the brilliance of the lamps and jewelry. As a result, he couldn't enter the room and on the next day morning he left silently. Hence, on this grand festival people lighten up their homes with clay lamps. Every household decorate the entrance with Rangolis and worship Goddess Laxmi for wealth and prosperity. In village, often cattles are worshipped as they are the source of income.
On this special occasion, along with the traditional customs and rituals, people make grand celebration with feasting as well as exchanging gifts. On this special festival, if you want to wish good luck and happiness to your dear ones then you can send gifts to India from GiftstoIndia24x7.com.
Some of the popular gifts that you can opt for your loved ones are as follows:
Spiritual Gifts -
You can make this festival more auspicious by sending spiritual gifts to your dear ones. Wide collection of spiritual gifts are available in the 'Spiritual Gifts' section. Most the spiritual items are of silver. You can bestow the blessing of Gods by sending holy idols such as Goddess Laxmi, Lord Ganesha and so on. Since Laxmi puja is organized in every Hindu household you can send precious puja accessories such as diyas, bells, thali, kalash etc. You can wish good luck to your loved ones by sending Shagun coins.
Exclusive Jewellery -
Buying as well as gifting jewellery on Dhanteras is a very popular custom. This traditional custom signifies good luck and prosperity. Hence, you can charm your dear ones on Dhanteras 2012 by sending fascinating jewellery. Right from gold, pearl to diamond jewellery everything is available in the 'Exclusive Jewellery' section. You can opt for the best one for your dear lady. She will be overwhelmed to receive such precious gift.
Silver and Gold Gifts -
People believe Dhanteras as the auspicious day to buy gold or silver items as new 'dhan' will definitely bring good luck to the household. Hence, silver and gold items such as thali, utensil, holy idols, coin, necklace etc will be perfect Dhanteras gifts for your loved ones.
Gift Hamper -
On this holy occasion, you can opt gift hamper for your dear ones. The gift hampers come with various spiritual items such as thalis, silver holy idols of Lord Ganesha and Goddess Laxmi and many more. These items will create a holy ambiance to your loved ones' homes.
Send these exclusive gifts to India and enthrall your dear ones. These precious gifts will definitely brighten up the festival and make it memorable.