When was Bhai Dooj in 2013?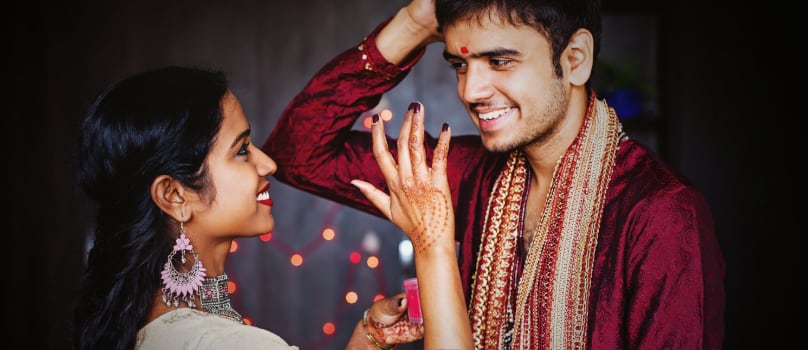 In India, festivals occupy a major role in the Indian culture. All the year round, festivals and occasions are celebrated by all irrespective of caste and creed. Such an important festival is Bhai Dooj that upholds and strengthens the relationship between a brother and sister. It takes various names in different regions. It is popularly known as "Bhai Phota" or "Bhatri Dwitiya" in Bengal, "Bhai-Bij" or "Bhau Beej" in Marathi and "Bhai Tika" in Nepal.
Generally the festival of Bhai Dooj falls on the last day of Diwali or Kali Puja. This is the second day of the bright fortnight or Shukla Paksha of the Hindu month of Kartika.
When is Bhai Dooj in 2013?
In the year 2013, Bhai Dooj has fallen on the 5th of November.
There are various legends behind the introduction of the festival of Bhai Dooj. According to some, the Hindu God of Death Yama visited his sister Yami on this day, his sister put a Tilak on his forehead, prepared special dishes for him and spent a nice day with him. So it is believed that if a brother receives a Tilak from his sister on this auspicious day then he will never be hurled into hell.
Another legend holds that after slaying the demon Narakasura, Lord Krishna visited his sister Subhadra who welcomed him with flowers and sweets and put a holy Tilak on his forehead.
Whatever be the origin of the festival, in India this festival is celebrated with immense gaiety and fervor. On the day of Bhai Dooj, brothers are invited to their sister's house. In the auspicious lagna, sisters performs aarti and puts a tilak on her brother's forehead. The elder of the two, blesses the other and both exchange gifts and goodies. Following this there is a grand feasting and a family get together.
In many of the cases, sisters are unable to meet their brother and celebrate Bhai Dooj together due to their staying abroad. So they take the help of different e-gifting sites, to send gifts to India to their brothers. GiftstoIndia24x7.com is such an online gifting site that showcases countless gifts for every occasion. Similarly there are exclusive Bhai Dooj gifts to India for your adorable brother. Some of the gifts that you can opt for are:
Gadgets
Most of the brothers are Gadget freaks. So gifting them their favorite gadgets will definitely bring a smile to their face. There are loads of options of branded gadgets for your brother. You can gift him an electric shaver from the renowned brand Philips, that will make his daily task of shaving easy and fast. Other gadgets like rice cooker, electric kettle or dry iron will make make his daily living hassle free. There are also more options for you, so select the perfect one and delight your brother by gifting him one on Bhai Dooj.
Apparel for Brother
Apparels form a person's personality. So this Bhai Dooj gift your brother a smart apparel. There are different categories of Apparel for Brother to be found here. You will find apparels from the best brands here. There are shirts from Peter England, Allen Solly, Van Heusen and John Miller. You will also find apparels like Jeans for casual wears. The shirts can also be clubbed with a formal trouser to make a complete formal set. Besides there are neckties too to add on.
Men's Personal Care
Your brother may be an office goer or a student who is always busy. They must stay fresh and active all throughout the day. So with the help of a Men's Personal Care gift item he will be able to keep himself going. Here in this section you will find special hampers containing men's essentials like Eau-De-Cologne, Deo-Sprays, Powders, Shaving items from best brands like Garnier, Axe, Adidas, Wild Stone etc. Your brother will find them truly beneficial.
Sweets for Brother
For the brother who is fond of sweets, Sweets for Brother on Bhai Dooj will be the perfect gift. Sweets are considered auspicious by Indians on any occasion. So Sweets can be always be gifted. Here in this site you will come across wide variety of mouth watering sweets. Send him a box of Motichoor laddoos or kaju barfis, kesar petha, kesaria peda etc. He will love the taste and will thank you for sending such a delicacy.
Celebrate the bond of eternal love between brother and sister through the festival of Bhai Dooj. If you cannot meet him personally GiftstoIndia24x7.com will always help you to send online Bhai Dooj gifts to India and convey your warm wishes.