When was Bhai Dooj in 2012?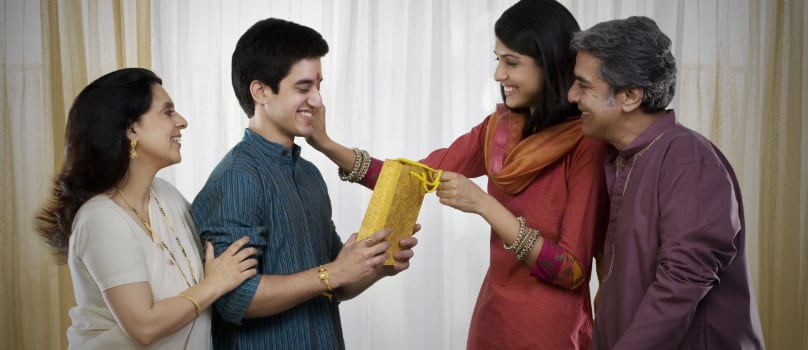 The five days Diwali festival ends with the celebration of Bhai Dooj. The celebration of this festival is similar to that of Raksha Bandhan. Bhai Dooj is also known as Bhai Phota or Bhau-beej. The festival glorifies the eternal bond of love shared between brother and sister. The festival is observed on the second day of the bright fortnight of the Hindu month of Kartika.
When is Bhai Dooj in 2012?
This year Bhai Dooj is on 15th November.
There are various legends associated with the celebration of Bhai Dooj. Many people believed that on Bhai Dooj, the Lord of Death Yamaraj visited his sister Yami. She marked his forehead with red tilak and prayed for his well being. Hence, on this day sister performs aarti and put red tilak on his forehead believing that her brother will never be hurled into hell. Another legend narrates that on Bhai Dooj, Lord Krishna was welcomed by his sister Subhadra with flowers, sweets and lamp. She also put a holy protective mark on his forehead. Many people believed that Mahavir's brother King Nandivardhan was comforted by his sister Sudarshana as he remained depressed due to Mahavir's absence. Hence, on this auspicious day, every women celebrates Bhai Dooj to convey her love as well as pray for his well being.
The festival is celebrated with lots of joy and enthusiasm in various Hindu households. On this holy day, brothers are invited by their sister in their homes. Grand feasting is organized for him. Sister prepares delicious dishes and sweets to make her brother feel more special. As gifts hold special significance on Indian festival, the custom of exchanging gifts is very popular on Bhai Dooj. Both brother and sister exchange attractive gifts to convey love and happiness.
GiftstoIndia24x7.com is a reliable online store that showcases wide variety of Bhai Dooj gifts to India. Since sending gifts to India online has become quite popular these days you can easily access through this e-gifting portal in sending gifts.
Some of the popular gifts that you can opt for your dear siblings are as follows:
Apparels
The custom of gifting apparels to brother is very common. Hence, you can opt for exclusive outfits for your dear brother in Bhai Dooj 2012. Wide array of apparels such as shirts, jeans, trousers etc are available in the 'Apparel for Brother' section. Your brother will be enthralled to receive these gifts.
Watch
A watch will be an ideal gift for you brother on Bhai Dooj. Exclusive watches from Titan, Citizen, Sonata, Fastrack etc are available here. These gifts will definitely enhance his personality.
Accessories
If you want to gift something useful to your brother on Bhai Dooj then you can opt for men's accessories such as pen set, calculator set, wallet, portfolio bag and so on.Your brother will appreciate these gifts.
Personal Care Items
Personal Care hampers are also available in this site. You can send Personal Care hamper as gift to India. Personal Care hamper includes diverse Personal Care items such as shaving cream, deodorant, aftershave, etc, from renowned brands such as Denim, Garnier, Axe and so on. These Personal Care hampers will definitely be useful to your brother.
Sweets
You can give a grand treat to your brother on Bhai Dooj by sending a box of Indian sweets to India. Mouth-watering Indian sweets such as Motichoor laddu, kesar barfi, kesar peda etc are available in this online store. Moreover, you can send sweets according to your brother's preference.
Apart from these gifts, various other gift articles such as perfume, vouchers, spiritual gifts, silver gifts etc are available in this site. These gifts will definitely convey your love and warm wishes to your brother. Send these gifts to India and make the festival jubilant.