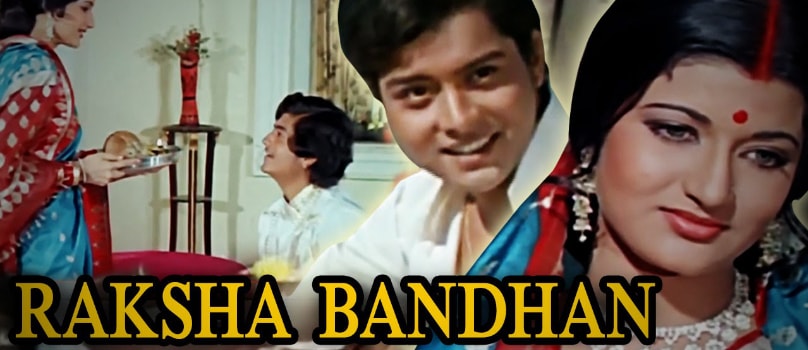 Rakhi celebrations can never be complete without exploring the naughty sweet relation of a brother and sister. The relation of a brother and sister is one of the most loved and sweet relations one can share. They fight and bicker all the time, but at times of need can become each other's support system and stand up to help each other at all times. Such is the sweet relation which brothers and sisters share. Also send gifts to your brothers and sisters by sending them gift for rakhi online through this trustworthy online gifting portal Giftstoindia24x7.com.
Bollywood movies have explored a lot about the intense relation which bhai - behen share. In different genre and in different backgrounds these have been experimented with. Let's discuss some of the top onscreen bhai-behen jodis of bollywood that we have seen.
Hare Rama Hare Krishna (1971) :
An endearing story about brother Prashant (Dev Anand) looking for sister Jasbir (Zeenat Aman), who is now a hippie with a new name and identity. It takes immense trouble for the elder brother Prashant to rescue his sister and bring her back to family only to lose her to death. The bond shown here between them truly touches the heart.
Josh (2000) :
Shah Rukh Khan and Aishwarya Rai played twins in this movie of rival gangs. They played out their roles very well and truly did justice as what brothers and sisters do for each other.
Iqbal (2005) :
Deaf and mute boy Iqbal (Shreyas Talpade) is constantly supported by his sister Khadija (Shweta Prasad) to fulfill his dreams of becoming a cricketer and helps him to realize his dream. The relationship portrayed by them is sure to leave one teary-eyed.
Rakhi is a festival to honour and celebrate the special bond that brothers and sisters share and to make it even more special you can send online rakhi to India. Also you can give various gifts for bhaiyya and behen with the help of this reliable online gifting portal . It will help you choose combined gifts or separates rakhi gifts for him and rakhi gifts for her. You will also find different kinds and categories for rakhis.
My Brother, Nikhil (2005) :
Dealing with complex social issues like AIDS and homosexuality, this beautifully made film by Onir captures the captivating relationship shared by Juhi Chawla and Sanjay Suri as siblings and their journey together.
Kai Po Che (2013) :
The flavour of this sibling relationship was felt when the book was released before the movie Kai Po Che. In the movie, we got to see how Vidya (Amrita) and her brother Ishaan (Sushant Singh Rajput) got to fight with each other over trivial matters but loved each other a lot. So much so that later, Vidya named her son as Ishaan, in the loving memory of her brother.
Dil Dhadakne Do (2015) :
This movie might not have done much well in the box office but the warm portrayal of the bhai-behen relationship depicted by Priyanka Chopra and Ranveer Singh makes a cliche into everyone's heart. Whatever might be the situation they always confide in each other and help and understand each other as it should be in real life.
These onscreen bhai behen jodis really makes us value this beautiful relationship even more. With the help of this reliable and reputed online shopping portal you can also send rakhi to India from USA online very conveniently and easily.